Slot Machine Denominations in the U.S.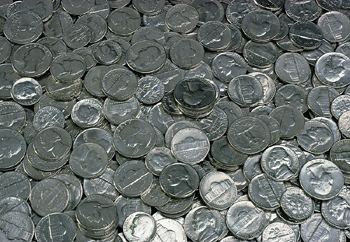 We know that slot gambling makes up a majority of the casino action in the United States. But because slot machines come in so many varieties, accepting wagers as little as $0.01 per spin or as big as thousands of dollars per round, questions abound about exactly how much American casino customers are spending on their slot games.
Try the 3D Slot Machine Games at Bovada and Get a $3000 Welcome Bonus
Top Slot Casinos
Rank
Casino
Payment Grade
Bonus
Bet Now
The most popular slots are low-cost machines, those that accept bets in
the penny and nickel range. Sure, some gamblers travel to Las Vegas with
hundreds of thousands of dollars to wager, playing in special VIP table
games and enjoying the perks of being a casino whale. But most visitors to
American casinos have smaller budgets, and slot machines that allow wagers
of $0.01 or $0.05 per spin are attractive because they allow players with
smaller bankrolls more plays. All gambling is meant to be entertainment, and
if you only have $100 to spend, a penny or nickel slot gives you thousands
of chances to hit a jackpot.
Pros and Cons of Playing Penny and Nickel Slots
Unfortunately for the majority of gamblers, slots that accept bets in the
penny and nickel range tend to payback a lower percentage of the money they
take in. That's because the casino wants to make a certain amount of profit
from the machine, and with gamblers only inserting a penny or a nickel at a
time, those machines are programmed to payback less. The biggest
disadvantage for slot gamblers who play small-bet machines is that they are
theoretically less likely to win over the long run.
Of course, one obvious advantage of playing the penny slots is the amount
of entertainment you get for your investment. If you only have $50 to spend,
playing penny-ante slots means 5,000 rounds of slot gambling; compared to
just fifty pulls of the lever if you choose to wager a dollar at a time. If
your goal is to get as much gambling in as you can, you have a natural
reason to choose machines that allow you to place smaller wagers.
Another downside to placing small bets on one-armed bandits is the
smaller jackpots these machines pay out. Gamblers who spend $10 or $20 per
spin stand to earn larger prizes, and many slots don't pay out their highest
possible jackpots unless you wager a certain amount. If a gambler's goal is
to shoot for the biggest possible jackpot, playing the more popular penny
and nickel slot machines is not the way to reach that goal.
As long as people are looking to stretch their gambling budgets, small
wagers like $0.01 or $0.05 per pull will remain the most popular bets. As
slot machines develop into more interactive games, and as the population
that plays these games changes, it's possible that the average bet size will
increase. But for now, slots that offer bets of just a penny or a nickel at
a time are by far the most popular.