IGT Slot Machines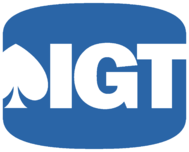 International Gaming Technology, better known in the industry by the
initials IGT, is a casino software design company that has earned the title
of the largest producer of online and land-based slot machines in the world.
When IGT purchased rival designer WagerWorks in 2005, the merger made the
company the biggest in the business, though shifts in the market and
increased competition means IGT is not as big of an influence in the market
as it once was.
IGT currently hosts more than 100 online slot titles, with dozens of
online gaming sites using their software to provide slot gaming to their
customers. But IGT is more than a designer of Internet slots; first and
foremost, they are a land-based casino design company. IGT's Reel Touch line
of slots, for example, is very popular in traditional casino settings. Reel
Touch machines use touch screens rather than old-fashioned buttons and
levers, and IGT's use of touch screens is a major innovation in
brick-and-mortar casino slot gambling. IGT also strives to stay on the
leading edge of online slot technology, incorporating the features online
slot players look for in games, such as stacked wilds, bonus games offering
free spins and jackpots, and multi-way winner titles.
IGT is an American company, headquartered in Las Vegas. It's a bit
ironic; even though IGT is listed on the New York Stock Exchange (ticker
symbol IGT) and the company calls the United States home, IGT's online slots
are not accessible to gamblers from America that want to wager at online
casinos. IGT pulled access to American customers after the anti-online
gaming UIGEA bill became law in 2006. However, IGT's land-based slot games
are still open to American wagers, and are among the most popular in US
casinos.
IGT Slots & Payback Percentages
IGT is one of a handful of slot designers that lists a "return to player
percentage" on their website, an average payback percentage of all their
games, from classic-style slots to progressive games. It's nice that IGT
attempts to be transparent in terms of how much their slots pay out, even
though the payback numbers aren't very specific.
Because IGT is the world's largest slot manufacturer, many of the
machines you'll find on casino floors and at online casinos the world around
are probably IGT games. IGT makes good use of their popular land-based
titles, translating them into online versions so that players familiar with
traditional casino titles can find and play the games they love when they
start gambling online.
If you are primarily a land-based casino gambler, you should recognize
many of IGT's online slot games, though they also offer some Internet slots
not available in traditional casino settings. The most common type of IGT
slots unique to online casinos are their progressive network games, which
operate under the label MegaJackpot Progressives.
Examples of IGT Slots
Some of the best-known slot machines manufactured by IGT include Sex and
the City, American Idol, Wheel of Fortune, Beverly Hillbillies, Elvis,
Megajackpots, and Monopoly. Making licensing deals with the companies that
own these trademarks gives IGT an edge against the competition – when slot
players see a brand they recognize, they're more likely to choose that game.
The tie-in with Sex and the City, for example, gives IGT a connection to the
female slot gambler market, something that not many slot designers are
concerned with.
If you've played a slot machine in Las Vegas or any other gambling
jurisdiction, you've probably played an IGT machine. As this company expands
into the online casino market, and as IGT continues to produce licensed
slots with themes familiar to the general public, expect them to continue to
dominate the industry.