Triple Diamond Slot Machines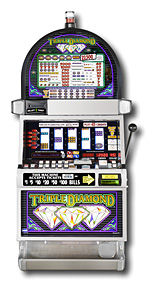 Triple Diamond Slot Machines from International Gaming Technology are found
all over Las Vegas and Atlantic City. The game has been so popular that
various versions of the game have been produced, with frequent updates to
add the latest gaming innovations and trends. One of the latest updates was
to include a multi-strike option, combining an old favorite base game with a
new game mechanic. With a multi-level payout structure and a free pass
option in the multistrike version, Triple Diamond slots should continue to
meet and surpass player expectations for years to come.

Try
the 3D Slot Machine Games at Bovada and Get a $3000 Welcome Bonus
International Game Technology
If you've played in a land-based casino for any length of time, then you
already know how widespread IGT machines are. If you haven't, then let me
give a little bit of background. IGT has made gaming machines for several
decades, though not as long as Bally's. IGT was on the cutting edge of the
electronic gaming machine and random number generator revolution. Because
they were innovators in developing progressive jackpots, IGT became a
dominant force in the brick-and-mortar gaming machine industry. As many as
one-half of the machines in American casinos were designed by them.
IGT, which is based in San Francisco and has branch offices around the
globe, is also a force in the international online casino software niche.
Internet casinos they supply no longer accept players from the USA, due to
the 2006 passage of the UIGEA law. If you're only familiar with online
casinos, that's why American gamblers might not be as familiar with
International Game Technology.
Coin Amounts
Machines accept a wide array of payment options. You'll see the phrase "This
machines accepts $5, $10, $20, $50, and $100 bills". The base bet is $1, but
players can find $100 machines which payout out massive jackpots when they
hit. If you play on a machine with a multiplier option, even the lesser
payouts can become substantial.
Top Fixed Jackpot
The max coin payout for triple diamond slots is 15000 coins. You receive
this if you get three diamond icons on the payline. Note that the payouts
are 5000 coins for a 1-coin bet, 10,000 coins for a 2-coin wager, and 15,000
coins for the top 3-coin wager. The jackpot isn't higher for the max bet, so
you only really need to make one-coin bets when paying this game.
Secondary Jackpot
The second best jackpot is "777", which pays out at the rate of 60/120/180.
As you can see, the top jackpot pays almost ten times what the secondary
prize amount is, so triple diamonds can be a case of feast or famine from
that standpoint. Remember, though, a 3x and 9x multiplier applies sometimes,
which is one reason the posted payouts are so small on the non-jackpot
amounts. Anything posted except the largest (and smallest) payout can be
multiplied when the right symbol appears.
More Prizes
The remainder of the prizes for maximum coin bets are 120 for three 3-bar
symbols, 60 coins for three 2-bar symbols, 30 coins for a 1-bar icon
alignment or any two "triple diamond" symbols, 15 coins for any three bar
symbols lining up, and 6 coins for a 3x diamond symbol on the payline.
Wild Symbols
The Triple Diamond jackpot symbol also acts as the wild symbol on this game.
The symbol substitutes for any other icon on the machine and provides for 3x
the normal payout. Two exceptions exist to this rule: when you get 3 in a
row for the top jackpot and when you get one by itself for the 6-coin
payout. If you get 2 of these icons to make up any other payout on the pay
table, you'll receive a 9x multiplier amount on the standard payout.
Alternate Versions
Keep an eye out for other versions of this game. When playing older
machines, I've seen games with a 1000, 2000, and 4000 top jackpot amount. In
this case, the payouts are going to be much less than they would have been
otherwise, so feed coins into the machine with that in mind. Also, note that
the proper strategy on these machines is to make the max bet, because the
3-coin jackpot is proportionately higher.
Multi-Strike Video Reel
In fact, this game has been such a hit over the years that International
Game Technology has produced a number of variations now. IGT now offers a
multi-strike video reel version of this game. This is a 5 reel, 100 payline
game with 25 lines on each level. This new version of the game combines the
multistrike multiplier concept with a bonus wheel concept. Four levels are
playable, with higher award multipliers at each new level. Playing at the
advanced fourth level offers huge payouts.
Free Ride Symbol
The multi-strike game is easier to win than most multi-level fruit machines,
because of the "free ride bonus symbol". Even if you don't advance to the
next level, a feat which is usually accomplished by winning on the current
payline, you have a second chance to advance. Even if no wins are
forthcoming, if the free ride bonus icon appear, you advance to the next
level anyway. Get to the 4th level to trigger the wheel, which has big bonus
multipliers. The base game has been a player favorite for a long time, so
IGT's combining that successful game with the multi-strike option should
make for a new level of player satisfaction.
Game Review
Triple Diamond Slots is one of those games which shows up on YouTube a lot.
These postings involve someone filming a game session with a cell phone, and
inevitably show that someone winning a big payout. That's free
advertisement, but also a good indication of how popular, widespread, and
generous IGT's game is. Many people name this as one of their favorite
one-armed bandits and you can count me in that crowd.
Be careful to know exactly which version of the game you're playing.
Different payout schedules exist and different rules within the game also
exist. You could read this article and assume a lot about the game, only to
find yourself playing something quite different. That can lead to
frustration, so study the machine when you find it in the casino and make
sure it's the game you read about. Most of the time in the year 2013, it
will be.

Try
the 3D Slot Machine Games at Bovada and Get a $3000 Welcome Bonus