RTG Slot Machines
RealTime Gaming Slots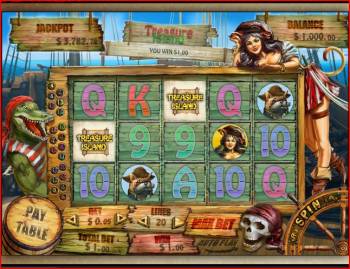 Realtime
Gaming is a US-friendly online casino software design company. In fact, RTG
provides software to more casinos which accept American players than any
other firm in the business. While players from the UK and most of
continental Europe are welcome at these sites, any gambler from the USA
needs to know about this network of sites.
The company is based in Costa Rica and began operations in Atlanta, Georgia.
After the United States government passed the UIGEA law in late 2006, the
original owners sold their business to a company based in Curacao in the
Netherlands Antilles. That company, Hastings Ltd, moved the headquarters to
Central America in 2007.
Top Slot Casinos
Rank
Casino
Payment Grade
Bonus
Bet Now
Real Series Slot Machines
The leading series of slot machines for RTG is its Real Series slots. These
games have enhanced graphics and sound quality, much like the Gold Series
from Microgaming. Some of these themes are going to seem similar to you if
you're used to playing at the United Kingdom and European casinos. Others,
like the popular Rudolph's Revenge and Santa Strikes Back, have their own
distinct theme and sense of humor.
One thing slots players need to know about is the high percentage of slot
machines with progressive jackpots. If you play the progressives, this won't
be any problem with you. It might be frustrating if you go to a site and
can't find but a couple of flat-top machines out 50, but rest assured, most
of these sites have a few fixed jackpot machines.
Video Poker Games
Their video poker selection is excellent. In fact, many popular games like
Jacks or Better and Deuces Wild are available in two versions. Remember to
double-check the best pay tables for video poker, because it's a game where
knowing the best game to play saves you money. Many times, the best
variation isn't the one it would seem to be. Also, RTG allows the companies
using their software to set the pay tables on these games, so a Jacks or
Better game at one site might have a different pay table from the one on
another site.
Blackjack Selection
They offer just as many blackjack selections as Microgaming casinos, even
though it doesn't look at that way at first glance. RTG offer multi-hand
blackjack, but it doesn't list that as a separate game the way Microgaming
does. In fact, the world's biggest online software company makes a habit of
listing every little variation as a separate game. I don't consider Perfect
Pairs played with Gold Series software to be a different game than one
played without it, but Microgaming does.
The essential games are included on the RealTime Gaming sites. For instance,
you'll be able to play Classic Blackjack, Spanish 21, Super 21, Match Play
21, Face Up 21, Blackjack Switch, Pontoon, and Perfect Pairs. The names
might not be what you would expect. Super 21 is the same game as Super Fun
21 at other sites. Face Up 21 is the same as "Double Exposure". Spanish
Blackjack is more-or-less the same game as Australian Pontoon.
Other Table Games
The table games menu offers the standard casino list. Craps, roulette, and
baccarat are available in the forms you know and love. Asian favorites like
sic bo and keno are available. The combined number of table games and
specialty games might not number more than 30, but nothing essential is left
out of the mix.
European Roulette
European roulette is part of the selection. This represents one of the few
places Americans can enjoy single-zero roulette, unless you plan on making
the trip up to Atlantic City, New Jersey. A few casinos on the Vegas Strip
offer European roulette, but that's usually at a minimum of $25 ($15 if
you're lucky) and usually in a roped-off area of the casino.
I noticed recently even many of the Atlantic City casinos now only offer
"Rapid Roulette". Local laws require the casinos to offer la partage
roulette, which lowers the house edge from 5.26% to 2.63%. What Rapid
Roulette does is offer a quicker game on an automated terminal. Faster
gaming means you see more hands per hour, meaning most people lose more
money per hour. On a 12-player terminal, players don't have the luxury of
taking their time, so the money you cede to the casino per hour isn't what
it's made out to be.
You don't have to worry about that as an American playing at an RTG casino.
You get European roulette at a 2.70% house edge. You can play at the pace
you want. Just don't play multi-hand roulette, since that once again forces
you to play more hands per hour. If you do, play it for lower wagers.
American Casino Gambling
Before I sign off, I wanted to say one other thing to the American gamblers
out there. Be sure it's legal to gamble online in your area, specifically
your IP address. The US government never has prosecuted a lone gambler
sitting at home betting their own money, not harming anyone. That doesn't
mean American officials won't do so in the future, so it's your
responsibility to make sure you know the federal, state, and local laws in
your jurisdiction.
As a fellow American, I love our system, but for gambling purposes, our
several layers of government makes for a patchwork of ill-fitting laws and
regulations. About 65 of the 75 RTG online casinos accept US players. The
Netherlands Antilles, which licenses most RTG sites, likes your business,
but that doesn't mean your local and state authorities are going to see it
that way.