Mid Life Crisis Slot Machines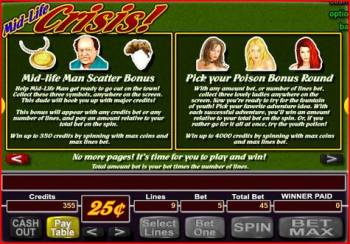 Mid-Life
Crisis slot machines are a product of RealTime Gaming available at many
betting websites that run on RTG's casino game software. Mid-Life Crisis is
a five reel machine that allows bets on up to nine pay lines. The theme, as
should be obvious from the name, is the dreaded mid-life crisis, a time in
some men's lives when they realize they're getting older and start to behave
a little differently than normal.
Try
Mid-Life Crisis at Bovada and Get a $3000 Welcome Bonus
A crisis of this type might involve a man between the age of forty and fifty
who suddenly goes out and finds a young date, buys a luxury or sports car,
and tries to act much younger than the age on his driver's license. Of
course men aren't the only ones susceptible to this crisis – women who are
approaching their older years are just as likely to want to try to recapture
some of the excitement of their younger days. This Realtime game is built
around this concept, making more than a little bit of fun of older people
who suddenly get tans, buy expensive items, and do everything in their power
to avoid getting older.
Game Details
This is a progressive machine; that means the top jackpot is not fixed at a
specific prize amount but grows over time as gamblers on the same network
place bets on it; the size of the top jackpot depends on how long it has
been since someone won it, with the current value displayed on the screen
and in promotional material as a way to attract bettors to the game.
This game is heavy on theme, starring characters in the middle of their
spending sprees, images of luxury items a person in such a position might
surround themselves with, and constantly addressing the humor inherent in
older people trying to stay young. Features that fit the theme include
images of pretty young ladies doing their best to impress an aging man, and
symbols and animations of sports cars, lavish vacations, spending sprees,
and other costly items that are typical for people approaching this stage of
their lives.
One feature RTG does well is bet variety. Progressive games aren't known for
allowing gamblers much wiggle room when it comes to the size of their
wagers. Yes, Mid-Life Crisis sets the credit value firmly at $0.25 per
credit, but the title makes up for that; bettors can lay wagers on between
one and nine pay lines and as many as five coins per line. That leads to a
bet variety of between $0.25 per spin and as high as $11.25 per spin. Both
small and large wagers are available, especially for gamblers who want to be
eligible for the progressive top payout. The only way to be eligible for the
game's biggest prize is to bet all five coins on all nine lines.
A unique feature of the title is the use of three different scatter symbols:
an over-the-top gold chain, the game's hero (a balding man in the middle of
his aging dilemma), and an outlandish toupee. These three symbols only
appear on reels 2, 3, 4, and though each of them can pay instant prizes if
they appear on more than one reel, the only way to trigger the game's bonus
round is to land one of each symbol at the same time.
The scatter symbols don't have to land on an active line to either open the
bonus game or trigger instant prizes, and unlike many online slots the
standard payout prize and the scatter symbol reward are both win; many
online games pay out only the larger of the two prizes. RTG states plainly
that this title's scatter prizes are added to any standard wins for symbol
combos on active lines.
Max Payouts
The largest prize is the progressive jackpot, the value of which resets to
$100,000 after it is won, and which usually hovers in the mid to high
six-figures. Outside of that win, which doesn't happen very often, the
biggest fixed jackpot is worth 3,200 credits. Players who form a combo of
either 4 sports car symbols or five luxury yacht symbols win this reward.
Bonus Rounds
It's rare to find a five reel and nine line game with two bonus rounds built
in. The first round is triggered by spinning three different scatter symbols
on any line, active or not. If a gambler is lucky enough to land one of the
bald man symbols, one of the gold chain symbols, and one of the wig symbols
on any lines will play the Mid-Life Man game. When the combination appears,
the main character (known as Mid-Life Man) jumps off the reels to the front
of the interface and rewards a random amount of free credits.
The other bonus round is a bit more rewarding and involved. When a player
spins the Three Lovely Ladies symbol anywhere on any active pay line, they
trigger the Pick Your Poison bonus game that is actually two different
options in one. The bettor can pick between what the game calls a "special
adventure" game or a quick slug off a bottle labeled "Krazy Al's Miracle
Youth Tonic." Choosing the Tonic leads to a luck-based bonus credit game,
while the special adventure has the main character running through a
shopping mall and picking up random rewards, which are converted into prize
amounts at the end of the game.
The option of selecting a special prize is not as common with online slots
as it has been recently in their land-based cousins. With this RTG
progressive, winning the ever-increasing top jackpot actually gives the
player the option of choosing an actual sports car (un-specified but valued
at $100,000) or choosing instead to take home the progressive amount. It
might make sense to select the car, if the progressive's value isn't much
more than $100,000, and especially if you are close to your own middle age
nightmare.
Choosing between the top jackpot and the sports car means spinning a
combination of five of the game's sports car symbols on a single active
line. Only bettors laying the game's maximum wager of $11.25 per spin are
eligible.
RTG's Mid-Life Crisis machine has fairly simple rules for a progressive
slot, and even though it contains a few bonus rounds and some special rules,
it is a progressive game that's easy to learn and play. Instead of relying
on a licensed theme from a popular movie or offering half a dozen different
bonus rounds, this game's appeal comes from its detailed and unique theme
and the offer of a sports car or giant progressive cash prize.