Super Diamond Mine Slot Machines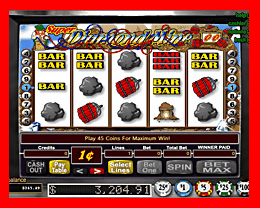 Super
Diamond Mine slot machines are designed by Realtime Gaming and available at
online casinos that run RTG's suite of gambling software. This game is a
sequel to the popular Diamond Mine machine – the Super version is a five
reel game with bets available on up to nine pay lines. This game
incorporates video scenes and a bonus game as well as cascading symbols and
a progressive jackpot, making it a bit more feature-heavy than the original
version.
Try
Super Diamond Mine Slots Games at Bovada and Get a $3000 Welcome Bonus
Game Details
The first version released by RTG was a classic style game with three
reels and a single pay line. Like the first version, the symbols used on the
reels match the game's basic theme of diamond mining – images of mines,
precious stones, clusters of dynamite, and giant boulders appear alongside
the more traditional bar symbols.
A unique feature of this game is the use of a blocker symbol – when a
boulder image appears on the reels, they break up potentially winning
combinations.
Available credit values range from $0.01 up to $5 each. The full variety
of credit sizes allowed in the game is $0.01, $0.05, $0.25, $0.50, $1 and $5
per credit. Chip denominations are a bit more limited – players can buy
chips worth $0.25, $1, $5, $25 and $100.
Since this game has nine available pay lines and players can choose from
between one and five coins per line, bet sizes vary between $0.01 and a
massive $225 each time the reels turn.
Game Features
A feature slot gamblers should take note of before they place bets on
this RTG title is the Cascading Diamond bonus symbol. These symbols are
exactly what the name implies, a flood of precious gemstones sparkling in
the sun. When these symbols appear on any reel, they have an attached arrow
that indicates the direction they will move.
As they move across the other reels in the direction of the arrow, they
drop down and alter each symbol and add other gemstone symbols to the reels
to increase the prize.
What do these symbols mean? If a player manages to collect 99 of these
gemstones during a single session, the special bonus game is triggered. This
luck-based bonus round asks the bettor to instruct a little dwarf miner
character which of seven different areas he should start digging in.
Instant credit prizes stack up as the miner moves through his dig, and
the game ends when the walls or ceiling of the place he's digging collapse
and bury him. This bonus round is worth as many as 4,950 coins provided the
player is laying the maximum wager of five coins on all nine lines. Without
placing the max bet, the bonus round is far less lucrative.
A Note on Credit Size
It is important for players to avoid changing their credit size as they
collect these special symbols, since the number of gemstones collected
during play will reset every time the coin size is altered. Players chasing
the bonus round will reduce their chances if they change credit size
mid-game. Not attempting to enter the bonus round when playing a bonus
machine like this one is not a smart investment of your bankroll or your
time.
Progressive Details
One more unique feature exists that may change the way some players
approach this RTG video bonus game. The progressive prize variety is limited
to certain credit sizes only, and the game's top fixed prizes are also
limited that way. Only bets with credit sizes between $0.01 and $0.50 lead
to progressive wins, and each level has its own different progressive prize.
The smaller the coin size the smaller the value of the progressive prize.
Instead of offering progressive jackpots at the $1 and $5 level, players who
place bets with $1 and $5 coins can win a large fixed top jackpot prize of
10,000 coins, meaning either $10,000 or $50,000 for spinning the correct
sequence of symbols.
Bettors placing bets with credits worth $0.01, $0.05, $0.25 or $0.50 can
shoot for one of five smallish progressive wins, but only if they are laying
the maximum of forty-five credits per spin, five to a line on all nine
lines. The progressive jackpot depends on the qualifying coin value chosen.
Gamblers win this progressive prize by spinning five of the special miner
symbols on active pay lines only, which since you must be betting on all
nine lines to be eligible effectively means on any of the game's nine lines.
If you place wagers with credits worth $1 or $5, lining up those five
symbols will lead to a 10,000 credit fixed prize; the game's second largest
prize is worth a 6,000 coin reward and is paid out when five gemstone
symbols appear on any active pay line.
Super Diamond Mine is one of RTG's more interesting progressive prize
titles, since it has a lot of special rules and requires a very specific set
of actions in order to win its more valuable prizes.
The use of a small progressive for small credit bets and a large fixed
prize for gamblers laying the big-money credit wagers is not common in
online or land-based slots, neither is the blocking symbol represented in
this game by the giant ugly boulder image. As the sequel to an old favorite,
the popular classic game known as Diamond Mind, this RTG update changes
almost everything about the original and offers a number of unique prizes to
entice gamblers to give the reels a spin
Try
Super Diamond Mine Slots Games at Bovada and Get a $3000 Welcome Bonus