Shopping Spree Slot Machines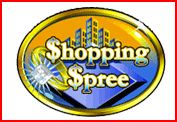 Shopping Spree Slots is a game aimed at people who enjoy shopping binges (women). The fruit machine comes with a progressive jackpot and bonus rounds. Like many
of the popular online casino games, ShoppingSpree comes with 5 reels and 9 paylines.
Coin Options
The only coin option on Shopping Spree is 25 cents. The max payline is 45, so a standard max bet on this fruit machine comes to $11.25. That might be a little steep for low rollers.
Try the Shopping Spree Slots at Bovada and Get a $3000 Welcome Bonus
Progressive Jackpot
The progressive jackpot starts at $25,000. Currently, the networked jackpot only sits at $28,000, though I've seen the pot rise as high as $1.6 million. In the grand scheme of progressive prizes, twenty-eight thousand dollars is not much of an incentive to play, because the house edge is going to be huge at the low level prizes. Still, it's a sign that the accumulated pot is hit from time to time. Also, the pot rises all day long, so it won't be too long before the progressive starts to be attractive. I don't know anyone who couldn't use $28,000. Besides, one huge mitigating factor assures the house edge is lower on this machine than most accumulated jackpot games.
$100,000 Shopping Spree
$hopping $pree is the game with the $100,000 shopping spree gimmick. Instead of choosing to win the progressive jackpot, you can choose to go to New York City and go on a buying binge at selected locations. The shopper gets $100,000 in cash to spend, but all of it has to go before the promotion is over. In these cases, the decision often is determined by whether the progressive is over one-hundred thousand or not.
Reel Symbols
The reel icons on Shopping Spree include a purse, lipstick cases, a diamond ring, a bouquet of flowers, nail polish, a string of pearls, a dollar sign, and high heels.
$$$ Bonus Round
Two separate bonus rounds are playable. The first happens when the three dollar signs ($) appear on the screen. These act as the scatter symbols, activating anytime you have three of them appear on the screen at once. When
they happen, the dollar signs gather and pay gamblers a random bonus amount. The max bonus is 350 coins.
Scatter Symbols
I've seen people say this slot machine doesn't have scatter symbols. Maybe that's the case in a technical sense, but the $'s fill the role of the scatter symbol. When three hit the screen in any location, a bonus is awarded.
Wild Symbols
Wild symbols do not exist on this machine, in any shape or form. That's a shame, because a wilds give a player much better chance of hitting the big payouts. If I were going to mark off when grading this virtual slot machine, I'd count off for adding a $10+ low max bet with no wild symbols. The trade-off is you get a second bonus game.
Mystery Grab Bag Bonus Round
The Mystery Grab Bag bonus mode is the more elaborate and substantial bonus game mode. In this mode, a 4×4 grid of question marks appear. Click on one of the question marks to reveal what's underneath. What you'll see is a
multiplier relative to what your initial bet was on the spin which triggered the bonus in the first place. keep clicking until you see a reel symbol which says "Collect". At this point, the bonus mode ends and you collect whatever  amount you won so far.
Shopping Spree Review
The inclusion of the optional payout makes me grade up for this title. It's not just a neat gimmick or a marketing ploy. Here's why it's more than that. Most progressive jackpots start over at $10,000, $25,000, or at most,
$50,000. When you play with the pot at those lower limits, you're playing at a high house edge. I've written about house edges ranging between 30% and 38% on certain games (not RTG) lately.
When you play $hopping $pree, the game is going to have a minimum pot of $100,000, because of the spending trip. A huge part of the house edge is lopped off because of that game mechanic. If you wander into a RealTime Gaming casino and you can't find an accumulated jackpot with a high prize, I suggest you play this virtual machine. In those situations, it's always going to have a lower house edge. I add one stipulation, though: if a trip to New York City sounds like anathema to you, then you might reconsider. Everyone should see Manhattan once, though.
Where to Find Shopping Spree Slots?
If you want to play this game, you can find it at 36 different online casinos. Most of these casinos accept players from the USA. It only makes sense, because of the free trip to New York City. It's cheaper to offer this prize to Americans. Your odds of playing at an RTG site which accepts Americans are good, anyway. Of the 70 RealTime Gaming online casinos right now, anywhere between 60 to 65 of them are going to accept U.S. players.
About RealTime Gaming
RealTime Gaming is owned by Hastings International, a company based in Curacao of the Netherlands Antilles. RTG isn't based in the Netherlands Antilles, though many of its associated online casinos are licensed in Curacao. RTG headquarters are in Costa Rica, though the company was founded in Atlanta, Georgia. The company was sold to Hastings International after the UIGEA went into effect, and most online gambling software providers decided being based in the United States wasn't safe.
Try the Shopping Spree Slots at Bovada and Get a $3000 Welcome Bonus