Black Gold Slot Machines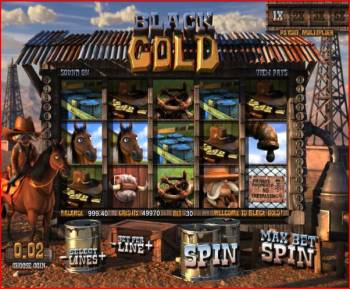 Black
Gold slots is one of the newest 3D releases by Betsoft. It's available for
play as part of
Bovada.lv's
large collection of 3D titles, and the game is based on stories of
the old days of Texas oil tycoons. The five reel and thirty pay line setup
is a common arrangement for Betsoft's 3D releases; about half of Bovada.lv's
3D games use the same number of lines and reels.
Try
the Black Gold Slots Game at Bovada and Get a $3000 Welcome Bonus
The game's story focuses on an oil prospector called Ol' Bill the Oil Tycoon
and his trusty horse. The story of the game is relatively simple – Bill and
his horse travel around Texas looking to strike it rich by discovering large
deposits of oil. Bill is all dressed up in traditional Texas attire: a big
cowboy hat, worn-out prospector's clothes, and a pair of bright silver spurs
on his cowboy boots.
Though most of the game involves traditional slot play, the plot puts
gamblers in the role of Ol' Bill as they try to place oil pumps in the right
spot. When Bill and his horse find a valuable oil pocket, gushers of black
gold that have been hidden deep inside the earth's crust blast out of the
ground and splash all over the game's symbols and reels.
Game Details
Related to Betsoft and 3D Slots
This particular BetSoft 3D game allows a larger variety of wagers than most
of their titles – players can bet between one and five coins per line. With
thirty available lines, the game accepts bets between one and 150 coins per
spin. Since Black Gold accepts a wide variety of coin sizes (denominations
are $0.02, $0.05, $0.10, $0.25, $0.50, and $1.00) players can wager anywhere
from $0.02 up to $150 each time the reels spin.
As for the number of lines available for betting, the game accepts wagers on
the following lines only – 1, 3, 5, 7, 9, 11, 13, 15, 17, 19, 21, 23, 25,
27, 28, 29, and 30. Notice that up until 27 lines, gamblers can only active
lines in specific numbers; for instance, this title doesn't allow wagers on
just 2, 4, or 6 lines.
Most of the symbols on the reels have to do with oil fields and the Western
aspects of traditional Texas imagery. Symbols representing the prospector Ol'
Bill himself and his horse are the two most valuable symbols, leading to
prizes as high as 10,000 credits.
All of the game's symbols are animated in 3D, so that images like bursting
oil barrels, large stacks of bills and piles of coins, and the horns of a
rampaging bull all make their own unique movements as the game plays out.
Bonus Games and Features
Black Gold includes two bonus games, a re-spin feature, and a free spins
game. Like many titles that allow for large wagers (players can bet as much
as $150 per spin) the designers have stuffed a lot of extras into this
machine. Here is a look at each of them, what they offer, and how they're
triggered.
A unique feature on Black Gold is the re-spin opportunity the game gives
players. Every time that a gambler lands a winning combination, regardless
of its size, they trigger a center reel re-spin feature that can land them a
larger prize. First, the initial credit prize is paid out, then the first,
second, fourth, and fifth reels lock while the third reel spins again for
another shot at a prize.
Even better, larger prizes can trigger more reel re-spins, and each time it
spin the prize multiplier for that re-spin is increased by one. The reel
will spin up to five extra times, meaning players can earn up to a 5x
multiplier on every winning combo. Re-spins keep happening up to the point
that the player lands a 5x multiplier (for five additional wins) then
continue at the 5x level until no more wins are tallied.
This title's free spins round is called Night Time Free Spins and its
triggered when three or more of the game's Barn symbols appear anywhere
across the five reels. When this mode is active, and only when it's active,
the Barn symbol becomes a wild multiplier. That means it can substitute for
any other symbol to form winnings combos and increases the win value by a
set amount at the same time.
The more barn symbols that appear on the reels, the larger the multiplier
value, at a rate of up to 10x the initial prize amount. Take note that the
only time during the game that the center reel doesn't active re-spins is
during the Barn multiplier bonus.
One of two bonus rounds, Drilling for Oil Click Me is activated when three
or more of the game's drill symbols show up on any of the five reels. This
is the more simplistic of the two bonus games, in which players simply click
different spaces on the map to place drills hoping they select the right one
and win a large bonus prize. This game is based entirely on luck and pays
out a wide range of credit prizes, free spins, and multipliers.
The other bonus round pays out a different number of instant credits based
on a gamble. When a player spins three or more Oil Pump symbols, the Higher
or Lower bonus round starts. Ol' Bill sits down at a gambling table and is
shown a number. The player decides whether the next number drawn is higher
or lower than the one shown. Guess right and instant credit prizes are added
to a running total on the bottom of the screen. The game ends after four
correct or four incorrect guesses, and once the game ends all the instant
credits the player wins are tallied and added to their total.
Not all of Betsoft's 3D slots allow wagers in such a large variety; the
ability to bet with six different denominations of coins, between one and
five coins per line, and on any of seventeen different configurations of
lines makes Black Gold one of the more player-friendly 3D game releases.
This particular game offers multiple bonus rounds and special features (not
to mention a well-developed theme that's a lot of fun to play) allowing
Betsoft to show off their skills in the realm of slot play and 3D graphics
effects.
Try
the Black Gold Slots Game at Bovada and Get a $3000 Welcome Bonus