3D Slot Machines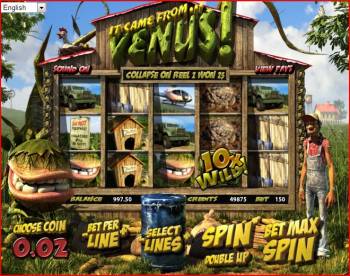 3D slot machines are games designed by online software companies featuring modern three-dimensional graphics and traditional casino action. Besides the more attractive visual effects, these titles are pretty much identical to other Internet-based titles.
This type of casino gambling has roots in the time of mechanical one-armed bandits and simple three reel machines invented by Charles Fey in the late 19th century – modern games still pay out winnings based on the random spinning of reels, though modern titles incorporate multiple pay lines, bonus games, and other features designed to appeal to a contemporary mindset.
Top Slot Casinos
Rank
Casino
Payment Grade
Bonus
Bet Now
Try the 3D Slot Machine Games at Bovada and Get a $3000 Welcome Bonus
Over the years, as game technology improved with the addition of electronic and computerized parts, designers have more freedom to create complex titles, new rules for play, different systems for rewarding gamblers, and new graphical displays that appeal to a contemporary crowd which grew up playing computer and console video games.
A good example of the variety of games and features available to modern players can be found at Bovada.lv. Most of the three-dimensional titles found at Bovada are produced by Betsoft, though most of Bovada's online games are produced by RealTime Gaming.
Betsoft is one of the leaders in three-dimensional Internet casino design, having learned the ins and outs of the industry releasing first online video titles and then a series of i-slots with more complex plots and interactive features.
Betsoft and Bovada offer thirty-five different titles in their 3D game category. The list of nearly three dozen machines featuring the latest innovation in game graphics available at Bovada includes some of Betsoft's most popular three-dimensional games.
This variety of the classic casino game is identical in many ways to traditional reel-spinning contests that have taken over casino gambling over
the past four or five decades. The difference between early Internet titles and Betsoft's newer designs is easy to recognize – both games have reels, pay lines, symbols, and features like bonus games and multipliers, but only 3D games are designed to incorporate the dimension of depth.
Related to Betsoft and 3D Slots
The dimension of depth means players see graphics and game features in front of and behind the reels and symbols as they spin. On traditional versions of these games, all the graphics and images are on the same plane, so animations and images were limited to one flat field of play only.
Betsoft's modern multi-dimensional games use film quality animation effects, introductory video clips, and audio effects that far outpace the quality of traditional 2D titles. These advanced graphics aren't just for show either – they allow the designer to fully develop a title's theme and introduce fully-realized characters, adding to the entertainment value and improving the overall quality of Internet casino gambling.
Here are two examples of the kind of high-quality 3D titles produced by Betsoft are currently hosted at Bovada.lv. Just about every feature of these games has been enhanced by the new 3D approach; the games' reels are just one aspect improved by the addition of enhanced graphics.
It Came from Venus
This alien-themed game from Betsoft uses five reels and allows wagers on up to thirty pay lines. The story of It Came from Venus is about a rural farmer named Skeeter who gets caught up in a classic alien adventure.
When a giant Venus flytrap creature (reminiscent of Audrey from the classic film Little Shop of Horrors) crash lands on Skeeter's farm, the two somehow become fast friends. When police and military forces discover the alien, they wage an all-out war against the plant and Skeeter's job is to protect his friend from harm. The gambler takes on the role of Skeeter as he tries to defend his extra-terrestrial friend from the human onslaught.
This particular title allows wager sizes between $0.02 and $0.50 per credit. Once that size of the credits has been determined, the gambler selects how many pay lines and credits per line he wants to risk – It Came from Venus allows wagers up to five coins per line. That gives the game a per-spin bet size of between $0.02 and $75 credits.
As for the game's symbols, they all fit in with both a rural and alien theme – the Venus flytrap alien is the title's wild and multiplier symbol. Others include Skeeter the farmer, a down-home farm truck, bags of feed and seeds, and a few machines for warfare such as helicopters and tanks.
One of the best features in the game is its free spin bonus feature called Feed Me. During this round, the gambler can earn as many as eleven free reel spins. This feature is triggered by the appearance of three food symbols on the center reel, and the game's graphics feature makes the action of Skeeter tossing food into his alien friend's mouth a more immersive experience than is usually found on Internet games of chance.
SlotFather
Another modern game from Betsoft with five reels and 30 pay lines, SlotFather pays homage to the Godfather film trilogy and classic Mafia imagery found in popular films and TV shows. The game's credit size varies from a nickel up to twenty cents each, and since the title allows up to five credits per pay line, the actual wager range is from $0.05 up to $1.00 per spin.
The game's symbols are what you'd expect from a Mafia-themed title – fancy mob boss clothes, a giant animated Tommy gun, and the wicked Underboss that also acts as the title's scatter symbol. On SlotFather, Betsoft has established a scatter symbol prize between 50 and 200 credits based on how many symbols (between 3 and 5) appear at the same time on an active pay line.
Not all Betsoft games cram so many features onto one title. SlotFather players have many bonus rounds and game features to chase after. Betsoft's Mafia-themed game is popular for more than its 3D graphic effects – from an Instant Win game called Sneeky, triggered by the appearance of the game's Suitcase symbol and the special Sammy Quickfingers symbol next to each other on any of the first three reels, to a more simplistic free spins game triggered by the appearance of a Tommy gun image and the character Frankie Da Fixer adjacent to each other on the first three reels, many opportunities for extra wins are available.
By far the most advanced aspect of this Mafia-obsessed title is an interactive game that starts when the player lands three or more Mafia Boss symbols on an active line. The screen will display a series of Mafia-related businesses; the player picks three for the SlotFather to open a small casino in. The amount of business your selections make (and the amount of cash they earn for the Mafia boss) determines the value of your bonus prize, made up of instant win credit amounts.
Try the 3D Slot Machine Games at Bovada and Get a $3000 Welcome Bonus