VGT Slot Machines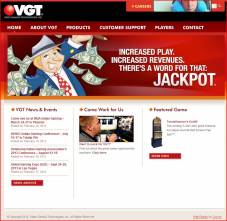 If
you're an American gambler and you don't remember seeing VGT slot machines,
then you probably live near one of the major gambling hubs in America. VGT
isn't as prominent in Las Vegas, Reno, Atlantic City, or Tunica, where IGT
and a few other companies dominate the class III slot machine market. Video
Gaming Technologies, Inc. is in the Native-American casino niche. VGT
supplies class II gaming machines to Indian casinos and other gaming venues
in the less frequented parts of the country. Again, you might not know the
distinction between these two types of casino devices, so before I discuss
VGT in too much depth, I want to talk about class II slots.
What Are Class II Slots?
Class II slot machines are known as "video lottery terminals", while class
III machines are called "Vegas-style" slots. VLTs are connected to a
centralized computer. This computer determines the result of each wager.
Each machine linked to the system receives an equal chance of winning. VLT
payouts come from a limited prize pool, much like the scratch-off lottery
tickets you would buy at a convenience store or other vendor. Unlike common
perception, Class II games may or may not have a skill element.
Some gaming machines have characteristics of both class II and class III
devices. In these cases, they are all considered class 2 machines. By law,
if even one characteristic is in the class II designation, it's considered
in that classification. This is an important distinction, because states
only allow a certain number of classification III licenses. Those in the 2nd
classification aren't regulated as closely.
Characteristics to note are whether you're playing against the house (c3) or
against other players who're competing for the same prize (c2). Whereas any
result is possible in a game with a payout schedule only, in the class II
games, a win doesn't occur every spin, but the game continues until someone
win. Also, the player must be active, recognizing when they win and
announcing the result, like in bingo. Finally, all players play from the
same set of numbers.
Video Gaming Technologies Games List
Now that you know the market Video Gaming Technologies targets, let's talk
about some of the games they market. The company offers 3-reel mechanical
games, 5-reel mechanical games, 5-reel video games, bonus blast, charity
gaming machines, "Mexico games", and multi-games. Each of these provides a
different gaming experience.
3-Reel Mechanical Games
The largest list of gaming choices from VGT is the 3-reel games. Many of
these play like classic machines, though the graphics and sound quality are
21st century. Examples of these games include Lucky Ducky, 777 Bourbon
Street, Caribbean Cash, Star-Spangled Sevens, Quarterback Cash, Red Zone
Cash Rush, Squirrels Gone Nuts!, Tito Puento: King of Mambo, Mr.
Millionaire, Red Hot Rubies x2, Celia Cruz: The Queen of Salsa, Double
Freedom Wheels, and Greenback Jack.
5-Reel Video and Mechanical Games
The company offers four 5-reel mechanical games: Free Spins of Fortune,
Gemstone Falls, Land of Free Spins, and Pirate's Paradise. If you prefer
5-reel video slots games, you have three options: Silver Dollar Shootout,
The Hunt for Neptune's Gold, and Cameloot. The top award on the first of
these three games is 25,000 credits, while the top fixed jackpot on the
second and third video slots listed are 50,000.
Bonus Blast Features
"The Bonus Blast" features are customizable bonus games offered on various
gaming machines or types of games for Video Gaming Technologies. These offer
a different gambling experience for players. These games have intriguing
titles like Rainin' Rubies, Winning Wheel, Victory Lap, Lucky Pluck, Red
Screen Free-Spin, Pick a Safe, Pick a Duck, and Pick a Pot. You'll find
these one live-call bingo mechanical or video slot games.
Charity Games
Under the charity games, you'll find titles like Red Ball Roundup. This
series of games has four iterations: Red, Blue, Golden Fan, and Jade Dragon
8's. Games like Mr. Millionaire, Esmerelda's Dream, and Crazy Bill's Gold
Strike are also available. A couple of these titles are also multi-game
platforms, meaning you can enjoy several games on each box. For instance,
Red Ball Roundup, Lucky Leprechaun's Loot, Jewels & Gems, and Red Hot Rubies
all offer 10 games. This is where you'll find video keno for the VGT
company.
Mexico Games
Some of the Mexico Games also have the multi-game feature. Eighteen
different Mexican slots have been designed by Video Gaming Technologies.
Some of the games I've already discussed are on that list (El Millonario),
but some Spanish-language games include Carerra de oro, Celia Crus: La Reina
de la Salsa, Gol de Oro, Diana Cazadora, Pancho Pesos, Locura Por Los
Diamantes, Joyas Y Gemas, and La Fortuna Del Gambusino. More titles exist,
but the idea is to design Spanish language slot machines for an emerging
market of Spanish speaking clients.
VGT Slots Review
Once you get over the word "bingo" plastered across the top of the screen,
class 3 machines don't provide a much difference gaming experience than the
Las Vegas type of fruit machines. Obviously, you know the entire time you're
competing against other gamblers in the vicinity, but since you can't affect
the outcome of the game for better or worse, the difference is more academic
in nature. The games themselves are fresh, inventive, and look good, too. If
I had a complaint, I'd say I wish more 5-reel video slots were on the list.
Even that quibble is a muted one, because I can respect their decision to
stick with tradition as the 5-reel games become more prevalent all the time.
While I don't play Video Game Technology's "Mexico Games" series that often,
it's a smart move to tap into the gaming habits of the growing Chicano and
Hispanic population in the United States. While I might have missed the
effort, I know of no other major gaming machine producer in the USA which
has put so much effort into themes which might appeal to the gamblers who
use Spanish as their primary language. America's gambling industry is an
ever-changing landscape. With its attention to overlooked demographics and
its increasing saturation of the growing gambling network of the Native
American casino industry, VGT is on the cutting edge of American gambling
technology.