Lucky Ducky Slot Machines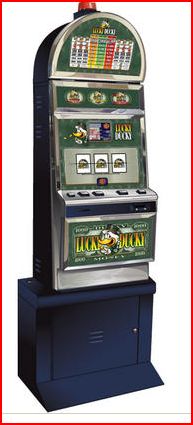 Lucky
Ducky slot machines are a fan favorite from Video Gaming Technology
Incorporated, because the title has one of the biggest fixed payouts in
their fruit game list. These machines won't be found in places like Las
Vegas or Atlantic City often, because they are made to replace Vegas style
slots in outlying areas. The class II slot machines are played in Native
American casinos and other places where class III gaming is either limited
or nonexistent.
How Class II Gaming Works
Class II gaming machines like lucky ducky slots are found in Native American
casinos. Unlike regular gaming machines, you play against the other players,
instead of against the house. One set of prizes exists for everyone playing
the machines. The game continues until someone wins the prize. If a
competitor wins, it's a zero-sum game, so that means you don't the top
prize. If you want to equate the style of gambling to something else,
consider it like scratch-off cards, in which only one scratch-off ticket has
the top winning prize.
You might not like that style of play (or then again, you might), but it's
an important legal distinction for the sake of gambling in many states. Once
you get outside states which aren't known for gambling, your best option for
a legal gaming experience is a Native American casino. While Indian
reservations are seen as sovereign nations for the sake of gambling
purposes, a landmark Supreme Court decision in the late 1980's stated the
reservation governments, if they want to have legal games, must come to an
understanding with the state governments their reservation sits inside. The
upshot of the gaming compacts is the Native American casinos must pay the
state a certain percentage of winnings, while also abiding by stipulations
set down by the state government.
Since many of these states are hostile to gambling, they make distinctions
between what they consider moral gambling and immoral gambling. Bingo-style
games tend to be considered positive, while Vegas-style gaming often isn't.
Class II machines therefore decide the winner much like a bingo hall
determines winners or losers. Class III machines, called "Vegas-style"
gaming, use a pay schedule to determine winners. Video Gaming Technology
Inc., the manufacturer of Lucky Ducky Slots, is a top manufacturer of the
class II type gaming machines.
Money Options
Despite the $1.00 posted on the front of the machine, players have several
options when choosing a bet size. The coin denominations available on these
machines are $0.25, $1.00, $2, $3, ad $5.00. Three coins is the top bet
amount, so you can play for as little as a quarter or as much as $15 per
spin.
Fixed Jackpot
The top fixed jackpot on Lucky Ducky Slots is 10,000x the original wager. If
you wager 25 cents, you'll receive a top payout of $2,500. If you wager the
max limit bet of $15, then you can walk out the door with $150,000 as your
top jackpot. That makes Lucky Ducky one of the top-paying machines among the
Video Gaming Technologies Inc catalog of slot machines, alongside games like
Crazy Cherry and Reel Fever.
Free Spin Feature
The free spin mode is a top feature you should be looking for. This gives
you a chance to win free spins on any spin, along with a retrigger feature.
You can find videos posted to YouTube with examples of play, if you want to
learn more without playing for real money.
More Bonus Features
One characteristic which separates VGT machines from so many competitors is
how customizable they are. You could find any one of 8 potential "Bonus
Blast" games when you walk into a Native American casinos. Each of these
bonus games enhances the fun in its own way. Games like "lucky pluck" and
"pick a duck" were made for Lucky Pluck Slots, so expect to find either one
of them when you play. Pick-a-duck has you select an icon from a group of
rubber duckies. Each icons has a different dollar amount under it.
Rainin' Rubies features a pay table with 12 different payouts on it,
depending on the type of ruby combinations you get. The payout schedule
ranges from as low as 200 coins all the way up to 200,000 coins. Victory Lap
features you and the fellow competitors in a race around a video game race
track in virtual stock cars. "Winning Wheel" features spins on a virtual
wheel of fortune, with 24 different prize amounts which can be won. The
payouts range between 400 credits and 2100 credits, depending on where the
wheel stops spinning. Pick a Pot allows you to select a pot of Leprechaun's
gold and see how much you win.
Review of Lucky Ducky
This game offers coins options which should suit both low rollers and middle
stakes players. High rollers won't like it, because they won't be able to
play for more than $15 per spin. Gamblers who prefer the progressive jackpot
games also won't be pleased, because this title offers a high fixed jackpot
only. Fans of more traditional one-armed bandits are likely to enjoy Lucky
Ducks, because it offers a high fixed jackpot, enough to get most gamblers'
adrenaline flowing.
The various bonus games could be hit-or-miss, since the casino you play at
might not use the best ones. A couple of the basic bonus modes are the
likeliest options. While they won't blow you away as especially novel, the
bonuses offered are straightforward and make for a nice break in the action
when you can't lose money. That's the great thing about bonus mode: you stop
paying to play, so it's all upside. When you first find this title on slots
row, remember to check for which bonuses are being used. If you see nothing,
you might consider another title until your favorite venue makes the change.