Food Fight Slot Machines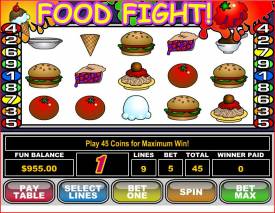 Food
Fight Slots is a 5 reel, 9 payline slot machine from Realtime Gaming. Food
Fight is from the same line of virtual slots as Mid-Life Crisis and Shopping
Spree, so anyone who's played those games should have a general idea of what
to expect.
Food Fight Slots is a little different than those other two games in a
couple of ways. You'll have more coin denominations, so you can tailor make
your bets to better suit your bankroll. Also, the game's bonus games are
triggered in a different way (than most games), because three separate icons
have to appear, instead of one icon over three reels. The main bonus mode is
more fun than those games, though you won't have the option to go to New
York City on a shopping spree, like on Shopping Spree Slots.
Try
Food Fight Slots at Bovada and Get a $3000 Welcome Bonus
Reel Symbols
The reel symbols on Food Fight Slots are all about delicious food items.
Icons include a hamburger, slice of pizza, pasta, unsliced tomato,
strawberry sundae, pudding, lime pie, meringue pie, blueberry pie, and
waffle cone for ice cream. I love to eat, so this makes me hungry even
typing about these desserts.
Ice Cream Scatter Symbol
The scatter symbol is ice cream. When these icons make it onto the reel
symbols, you'll win up to 450 bonus coins. The scatters can appear anywhere
on the screen, so long as enough of them appear at one time.
The scatter bonus might confuse some players, because it doesn't have a
standard game mechanic where you try to collect three of the same picture.
Instead, you have to collect 1 each of three different reel icons: a scoop
of ice cream, a delicious chocolate-and-cherry topping, and a waffle cone.
When all three appear on the screen at once, they parts assemble and you win
a scatter bonus. The amount paid is relative to the total bet on the spin
which triggered the bonus, with a maximum of 405 credits.
Wild Symbol
Food Fight Slots does not have a wild symbol. The lack of a wild icon is
a feature of this line of RTG online video slots, which includes Midlife
Crisis and Shopping Spree. Other features common to these games is 5 reels,
9 paylines, and 2 ways to win bonus cash.
Pudding Bonus Money
I'm not sure why, but pudding is one of the big bonus icons on FoodFight.
When the chocolate pudding dish lines up on a payline, players win up to
6,200 coins. This is the amount won if you didn't bet on the maximum
paylines. Whether you did or didn't, keep an eye out for pudding, because it
offers the biggest flat top coin amount on the slot machine. I think this
icon is sometimes mistaken for chocolate ice cream, though close inspection
seems to justify the pudding identification. In either case, look for the
bowl of chocolate goodies.
Progressive Jackpot
This means those who get the 5 puddings win the progressive jackpot, if
it's activated. To activate the progressive jackpot, you'll need 5 pudding
(or chocolate ice cream) symbols to appear on the maximum payline. This is
rare, but the accumulated jackpot reaches into the hundreds of thousands of
dollars.
Pie Fight Bonus Game
The main bonus mode is the pie fight. When all three pie symbol line up
on one payline, this activates a fun bonus game mode. Up to 3000 coins are
up for grabs. All you have to do is throw meringue pies. As long as you
don't miss (or until you reach 3000 coins), the game continues.
The bonus round works much like the scatters, so you'll need to collect
three different icons to start the game. The pictures you need are the 3
parts to a pie: a pie crush, the meringue, and the cherry on top. The bonus
round can be triggered with any number of paylines (wagered) or any size
bet. Once your dessert is assembled, all you need to do is select a victim
and launch your pie. The max coins won is 3960 credits, which is only
possible with the max lines and max coins (the total is possible–not the
bonus game itself).
Coin Denominations
I've seen people discuss how this game has 5 different coins
denominations in some casinos: $0.25, $1, $5, $25, and $100. I haven't seen
anything about $5.00, so I'd take that information with a grain of salt.
This is a departure from other games in the line and may account for the
popularity of the game with online casinos, given it appeals to high
rollers. The high limits on the game would rank FoodFight among the top in
the RealTime Gaming library of fruit machines.
Playing Food Fight Slots
Gamblers can play this game at 53 different online casinos powered by
RealTime Gaming software. Most, if not all, of these websites accept players
from the United States. Of the 70 websites powered by RTG software, about
60-65 accept real money players from the United States. In fact, this
qualifies RTG as the single biggest supplier of software to those websites
which are USA-friendly.
RealTime Gaming
When Microgaming, Playtech, and the other big name continent Euorpean and
UK websites stopped taking American money back in 2006 and 2007, due to the
Unlawful Internet Gambling Enforcement Act or UIGEA, RTG positioned itself
as the chief successor to those providers. This meant leaving Atlanta,
Georgia for a small town near Costa Rica's capital. The move paid off, so
I'm not longer writing about a lesser known software developer.
RTG relies heavily on the progressive jackpot game. Accumulating jackpots
are popular with players around the globe, so it's now wonder that's their
marketing decision. Just understand you'll be playing against a higher house
edge than most fixed jackpot games, unless the progressive pot has reached
about $200,000 or more.
Try
Food Fight Slots at Bovada and Get a $3000 Welcome Bonus