Achilles Slot Machine Facts – The RTG Achilles Slots Game
Achilles is a video slot game that can be found online at any of the Real Time Gaming casino sites. It features a design theme based on the Greek myth of Achilles and Helen of Troy that was said to have taken place during the Trojan War. With its imaginative animation and good, crisp graphics, this is definitely a game that could keep you entertained for hours.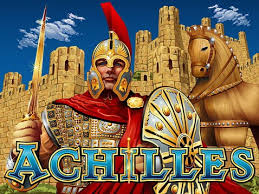 The game has five reels and you can play up to twenty lines with every bet that you make. It offers the choice to play  any one of eight denominations from a penny to a $5 max per line. You can play a maximum of one coin per line so the range of play will be anywhere from 20c all the way up to $100 on each play.
Achilles, by RTG features a convenient auto-play option, whereby you can set the game to play for a determined amount of time. It's also possible to make it automatically stop playing whenever certain events happen quickly and easily. You can set the parameters of your auto-play simply by going into the Options menu. After that, just pressing the "Auto Play" icon will set the game into play based on the options that you selected.
While the game does have the traditional card symbols in play including 9, 10, Jack, Queen, King and Ace, it also uses the Trojan theme as inspiration for additional characters and symbols. A solid line-up of any of these icons will also serve as the trigger for a bigger win. There's Achilles, obviously, and the lovely Helen, the two best paying characters that you can hope to get in this game. There is also Troy, represented by a castle, and a Trojan Horse that is capable of sneaking in a decent win at any time. A warrior's shield and a banner complete the set of symbols in the Achilles game and the minimum win for a row of five of either of these two symbols will still net you a win of 800 coins.
The 9, 10 and the face cards do offer up a lot of potentially winning combinations, especially for those who are willing to play all of the twenty lines available. Five of a kind of any combination of Aces and Kings will win you a cool 400 coins. Meanwhile, even a combination of five 9's and/or 10's is worth 200 points.
This progressive slot is capable of hitting a jackpot high of up to 10,000 coins during standard play. You can hit that jackpot in one of two different ways. In this game, the Achilles symbol is wild and if you get five of these on an active line, you will automatically win the jackpot. Otherwise, you can also hit it by getting five scattered Troy symbols on any active reels.
RTG Achilles Jackpot
The big jackpot isn't the only high payout on this game, however. If you can arrange five Helens in a row, it's worth a 5,000 coin win, while just four of these lucky ladies on a line will pay you 1,000 coins. Four scattered Achilles symbols will get you a 2,500 coin win and there's yet another smaller jackpot of 1,250 coins for a row of five horse symbols. With all of these ways to win big, it's hard to find a reason not to like Achilles.
The game includes two free spin bonus features as well, with generous runs of free spins to be won. If at least three wild Achilles show up on any of the active reels, you can choose any one of them in order to claim your free spins wins, ranging from fifteen up to twenty-five spins. Also, during these bonus rounds all of your wins will be automatically tripled, instantly boosting your odds of winning big. The Achilles free bonus feature can also be retriggered during its play, simply by hitting on three or more Achilles again. This aspect of the game provides the potential to really increase your winnings fast and adds a lot of excitement to these bonuses.
The game also offers another chance to win more during these free spin rounds. Wild Achilles and higher-paying Helen are used to replace all of the Troy symbols, thereby improving the odds that you will hit the big jackpot or at least retrigger the bonus at some point in this play. The best part is that if you do manage to win the jackpot during one of these rounds, it will be automatically tripled just like any other win, meaning that you could conceivably walk away with 30,000 coins.
The other free spin bonus on Achilles is triggered by getting at least three scattered Troy symbols on any one of your active lines. This will give you ten free spins and double your wins throughout the bonus play. You can also win more free spins during this feature by getting three or more of the Achilles or Troy symbols on any reels, as that will retrigger the bonus. Factor in that if you have a scattered win of all five Troy castle symbols, you'll also receive a 500 coin payout and the money from this bonus can really start to add up.
Another way to cash in on Achilles is through the Random Jackpot feature. It doesn't require any particular combination of symbols at all in order for you to win the Random Jackpot. It shows up above the normal reels and it is possible for this prize to hit at any point during your play, making for yet another easy way for you to win on the Achilles game.
In the end, this RealTime Gaming online slot is certainly a good way to kill some time and maybe even win a little spending cash. There are so many different ways to win on this game that it's impossible to get bored while on it. With good potential for a big win and graphics that are fun to watch, Achilles is definitely an online casino game worth playing.