Beverly Hillbillies Slot Machines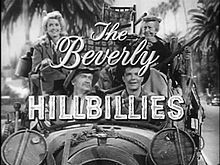 IGT has produced three unique slot games based on the popular 60s TV comedy The Beverly Hillbillies. The show, which aired from 1962 to 1971, was a traditional television sitcom about a family of backwoods hicks who strike it rich when oil is discovered on their land. A move to Beverly Hills from the actual hills of Tennessee is the basis for all the show's laughs; the family uses their mansion's billiards game as a "fancy eatin' table," refer to their swimming pool as a "ce-ment pond," and never can quite figure out concepts like doorbells, talking pictures, and city living.
Try the 3D Slot Machine Games at Bovada and Get a $3000 Welcome Bonus
The three titles in the IGT slot series, Bubblin' Crude, Moonshine Money, and The Clampett's Cash, each have their own themes. Each title also has a different bonus game, set of reel symbols, video and audio clips, and case designs, all of which are closely tied to familiar storylines or moments from the TV show.
The main characters (Jethro, Granny, Uncle Jed, and even Duke the Dog) all make appearances on IGT's Beverly Hillbillies slot machines. Sometimes the familiar faces are simple reel symbols, other times they act as bonus icons that hand out instant prizes or free spins. The luckiest gamblers will see their favorite Clampetts in authentic audio and video clips woven into bonus games that can land them the biggest possible jackpots.
Bonus Games
Depending on the title, slot fans that step up to IGT's trio of nine-foot-tall Beverly Hillbillies slot games can try their hand at a different bonus game. In Bubblin' Crude, the newest of the three machines, the bonus game involves prospecting for new oil wells. The side game in The Clampett's Cash puts gamblers in the role of a safecracker trying to figure out the password to Uncle Jed's stash of cash. Moonshine Money, featuring Granny in her rocking chair guarding the game's case with a shotgun, rewards gamblers that pick the best-quality barrels of her infamous Tennessee Tranquilizer moonshine.
Progressive Jackpots – MegaJackpots
All of IGT's Beverly Hillbillies slots are part of the company's MegaJackpots series of games, meaning they are available as wide-area
progressive machines in participating casinos. The largest progressive jackpots in the Clampetts' slot games reset to $200,000, but the
MegaJackpots system isn't all about one single ever-increasing jackpot; smaller bonuses are paid out at random or as rewards during bonus games.
What's unique about these three IGT MegaJackpots titles is their availability as penny slots. At the time of their release, these games were the first ever wide-area progressives with wager ranges available as low as a penny per credit. The combination of inexpensive play and access to potentially life-changing progressive jackpots was a first for American casinos, a perfect way for IGT to ensure that games based on a fifty-year old comedy would attract a wide audience of slot players.
Bet sizes on IGT's Beverly Hillbillies slot games vary, but the company produces machines that range from $0.01 all the way up to $5 per credit. Each game varies in terms of the number of pay lines and max-wager sizes, but the largest bets on any of the three are 125 credits per spin, meaning gamblers can wager anywhere from $1.25 to $625 per spin of the reels. That wide range of wagers, combined with a beloved TV show theme and the MegaJackpots progressive series of games, is more proof of IGT's desire to attract a variety of different gamblers.
It's hard to miss The Beverly Hillbillies games in any casino that hosts them, both because IGT has produced them in nine-foot-tall cases
festooned with images and statuettes of familiar characters and because the show's well-known theme music and occasional joke clips from the series play even when the machines aren't active.