Family Guy Slot Machines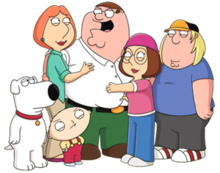 Family Guy is a popular and long-lived animated series, a more
risqué version of The Simpsons that depends on smart and somehow
still crude humor. The show was an obvious choice for a slot machine
designer – the show's characters are well-known pop icons, and their faces
are all over the case for these IGT machines. The Family Guy slot
machines, released in 2012, combine just enough of the show's edgy humor
with a ton of bonus games based on themes from the show for a game that will
please slot gamblers and Family Guy fans alike.

Try
the 3D Slot Machine Games at Bovada and Get a $3000 Welcome Bonus
As slot gamblers have come to expect from licensed games, this is a video
bonus slot that uses real clips from the show, a split-screen graphics
display that perfectly replicates the style of Family Guy's
animation, and plenty of audio voiced by the show's actual voice actors. The
game includes a number of random bonuses that pop up featuring the show's
characters, each of which changes the symbols on the reels into cash prizes
awarded instantly. This slot will also be popular among slot gamblers that
like to chase progressive jackpots – during each bonus round, any member of
the family will pop up at random, indicating you've won one of six different
progressive jackpots that range in size from the hundreds into the hundreds
of thousands of dollars.
Bonus Rounds
For fans of the show, and slot gamblers looking for video bonuses and
random prizes, the best part of the Family Guy slot are the three
bonus rounds, one apiece for the show's three biggest stars: Stewie, Lois,
and Peter Griffin. Stewie's bonus game is called The World, and is actually
composed of six different side games where you help Stewie decide what part
of the world to destroy. The specific mini game you play appears to be
triggered at random when you line up enough Stewie icons to enter The World
bonus.
Lois' game, Lois's Hot Spins, shows off the sexy side of her character,
something fans of Family Guy are well-familiar with. Unfortunately,
you also have to watch Peter in his birthday suit as he tries to get Lois in
bed. The game is triggered by the naked-Peter wild symbol, and during the
game, the player wins free spins based on Peter's skills. It's a really
twisted and fun bonus game that's another example of how well IGT translated
this show into a slot machine.
The final bonus is another scene that anyone who has seen Seth
MacFarlane's animated comedy will recognize: Peter versus the chicken. On
the show, a giant chicken is Peter's nemesis, and if you land enough chicken
symbols on the correct reels, you get to battle the chicken for three rounds
for a chance at winning bonuses and multipliers.
Family Guy's social media following, as IGT points out on their
website, is well over 47 million and the show was popular enough to be
brought back from cancellation for an even longer run. With some machines
available for as low as a penny-per-credit, and lots of progressive prizes
and bonus games to play, IGT's version of Family Guy as a slot game
is getting lots of good reviews from slot gamblers and Family Fans alike.