Dolly Parton Slot Machines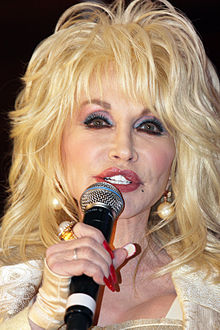 Dolly
Parton is an icon of pop culture and country music. She has her own theme
park, her own Broadway musical based on her life story, and 25 Gold,
Platinum, or Multiple-Platinum singles. She's also the wealthiest woman in
country music, and she's earned two Oscar nominations. In 2012, IGT
immortalized Dolly Parton even further–by releasing three different Dolly
Parton slot machines.

Try
the 3D Slot Machine Games at Bovada and Get a $3000 Welcome Bonus
The new 2012 Dolly Parton slots games include a video bonus title (simply
called Dolly Parton) and two traditional spinning reels games. One of these
traditional games is called Two Doors Down, while the other is named Nine to
Five. Fans will recognize the names of these games as the titles of two of
her most-famous hit songs.
Dolly Parton's career spans over five decades–she started writing and
recording songs at nine years old. She's had hits as both songwriter and
singer in multiple musical genres, but that's just for starters. She also
manages a business empire that does philanthropic work with charities and
action groups as diverse as PETA and the American Red Cross.
IGT's use of her name on a slot machine is smart, because Dolly Parton is a
strong brand among an excellent demographic.One of the fastest-growing parts
of the US casino market is in rural areas of America, where tribal gaming
sites and state-licensed gambling venues allow slot play in places where
it's never been available before. IGT is more likely to succeed in those
areas with Dolly and her brand of country music wisdom than with some of
their other recent licensed titles, like Sex and the City or
Family Guy.
MegaJackpots
The video slot game named after her combines cutting-edge technology
(high-definition multi-layer graphics and the MegaJackpots progressive
system) with classic Dolly Parton songs and video clips. The game creates a
unique experience designed to draw in both fans and non-fans of country
music.
IGT's game focus on the entertainment aspect, so even if you're not a big
fan of Ms. Parton's tunes, the game has a lot of fun to offer. The bonus
game, "Dolly's Awards," asks players to pick from Dolly's massive collection
of accolades for a chance at free spins, multipliers, and bonus jackpots.
Concert video and audio clips are ever-present, and IGT is producing the
machine in a wide range of denominations, from as little as $0.05 to as much
as $5 per credit.
Two Doors Down and Nine To Five
The other two Dolly Parton slots games are called Two Doors Down and Nine to
Five. These are spinning reel style machines intended to complement the more
complex MegaBucks video bonus slot. These two games target fans of her music
in a more overt way–Dolly's voice and music are a constant presence as the
reels spin. In fact, players can choose from ten different classic Dolly
Parton tracks to listen to while they play. These songs are only interrupted
by multiplier animations or other bonus features. IGT says the game is
"ideal" as a penny-ante machine, though multiple denomination versions of
the game are available at casinos in the US and Canada.