Monday, Feb 2, 2015 was a cold day in Ontario, preceded by such wintery weather that Kim McNamara had to shovel his 2005 minivan out of the snow before taking his wife, Lou-Anne, to work. They left early enough to stop at the local casino to retrieve a free promotional gas card, and after spending a bit of time playing a jackpot slot machine, the McNamara's are now over $1 million richer.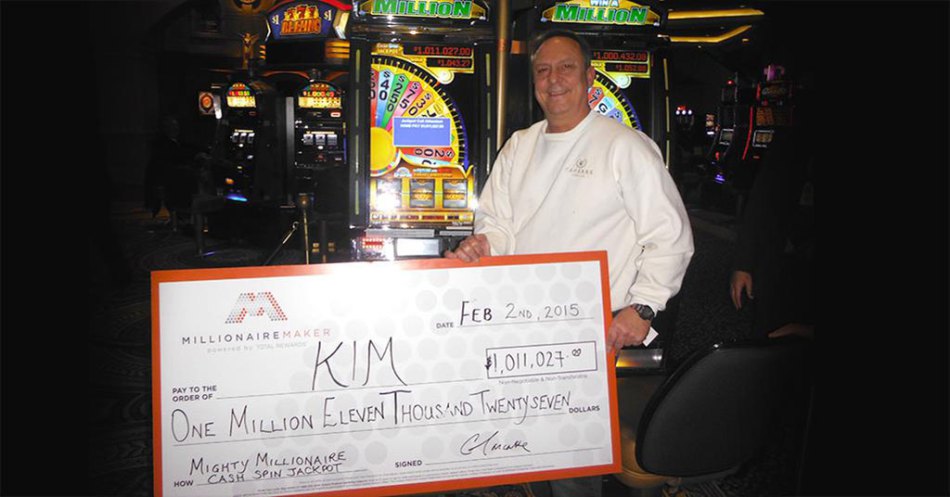 Neither of the McNamara's will be working much longer, Kim told the Windsor Casino in an interview with The Windsor Star. At 57 years old, Kim McNamara has been working for Chrysler at the Windsor Assembly Plant for 38 years. Due for retirement already, he says he'll be finishing out his last week before planning ways to spend their new found fortune. He added that his wife "is also going to be retiring."
Mr. McNamara said he played two slot machines that day, and both were lucky for him. After retrieving their free gas card—the only real reason they visited Windsor Casino that day—Kim said he "went onto the Silver machine… put $40 in and got it up to $175." From there, he transitioned to his favorite jackpot slot machine, Cash Spin Jackpot.
"One of the ladies came by and says, 'I hope you win the million'", Mr. McNamara told reporters. "I look up and I says 'Well it looks like somebody already won it", having observed the $1,011,27 jackpot that was reseeded at $1 million. "It isn't going to happen for a long, long time." he told her. Kim played anyway, though, and his $175 quickly dwindled to just $30. The auto worker decided to finish off the last of his credits before going home because he had a card game planned for that night.
"My next spin, I got 'cash, cash, cash'", said Mr. McNamara. He couldn't believe it. He thought he had won, but upon looking around, he saw no flashing lights, no managers rushing his way to congratulate him. He looked at the jackpot atop the slot machine and it had dropped from its original amount of $1,011,027 to exactly $1,000,000. He suddenly realized he had, in fact, won the $100,011,027 jackpot, and that's when the lights finally began flashing, the crowd started gathering and Caesars officials arrived to congratulate him.
As for what the McNamara's intend to do next, he said they will take a break and plan a vacation. They have two daughters who they intend to help out with some of the money. He also said they will definitely be trading in their 2005 minivan for an upgraded version. The rest of the money Kim said they will probably invest.
In his video interview, Kim McNamara looked and sounded rather exhausted. That's because the two have barely had time to celebrate their 9-figure winnings due to the telephone ringing off the hook.
"We've got 50,000 calls every five minutes. All the family," explained Kim. "Lou-Anne has a big family, I have a family, they all called. Then I've got quite a few friends at Chrysler and I play in a euchre league. All those people started calling. I couldn't believe it."
The Cash Spin Jackpot is part of the Mighty Millionaire, a province-wide progressive jackpot slot machine network that spans 24 gaming facilities throughout Ontario, Canada.