When a progressive jackpot strikes, we are accustomed to hearing the tale of a fantastically lucky slot machine player who struck it rich while spinning the reels. But progressives aren't just found on slots these days. One very fortunate blackjack player at San Jacinto, California's Soboba Casino won a massive $196,632 progressive jackpot playing the blackjack game known as Kings Bounty.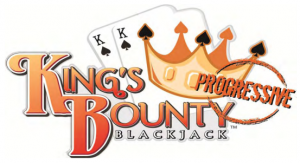 With a modest bankroll and a superfluous vision of prospective wealth, Keith Hall strolled onto the gaming floor of the Soboba Casino on the afternoon of Wednesday, July 1, 2015. Shortly after taking a seat at the Kings Bounty blackjack table, his dream came true when a mere $1 side bet resulted in the release of the life-changing progressive jackpot.
"I couldn't believe I won, but a fist full of cash proves that I did!" Hall exclaimed with more enthusiasm than a Super Bowl champion who just scored the winning goal. "You really can win big at Soboba!"
Kings Bounty Progressive Jackpot Blackjack Rules
Kings Bounty is a variation of blackjack in which players have the option of placing a $1 side bet with a chance to release the progressive jackpot. The side bet pays variable amounts based on the player's first two cards. If those cards happen to be 2 Kings of Spades, then dealer's first two cards also come into play.
To release the progressive jackpot, the player must be dealt 2 Kings of Spades, and the dealer must have a natural blackjack. That's exactly what happened to Mr. Hall that fateful day, delivering a colossal payout of nearly $200,000.
The management team at Soboba Casino was almost as elated by Keith's progressive jackpot win as he was. Jason Cozart, Table Games Manager at Soboba, praised Mr. Hall's immense payday. "I would like to send out huge congratulations to our lucky winner, and we hope he comes back to win more," Cozart said. "We have plenty for everybody!"
Cozart went on to detail the expansive range of games, including other progressive jackpot carriers, players can find at the San Jacinto, CA casino. "With a wide variety of traditional, as well as the newest and hottest games available for players, there are so many ways to win at Soboba Casino." He described the casino's selections as "a better mix and a wider variety of games," compared to other nearby locations.
"Plus, with side bets, we have more ways to win," said Cozart. "Anyone can walk in with a few bucks and walk out a huge winner!"
Owned and operated by the Soboba Band of Luiseno Indians, who celebrated Soboba Casino's 20th anniversary in January of this year, the popular gambling destination isn't just renowned for its long list of progressive jackpot winners. General Manager Scott Sirois thinks it's Soboba's affable nature that keeps players coming back time and again.
"At Soboba tables players like Keith like playing cards here because our staff is friendly, and our Blackjack rules are player friendly too," explained Sirois. "Our players feel at home and we're happy to welcome them back every time they come to play and win!"
Soboba Casino is located at 23333 Soboba Road in San Jacinto, CA, and features a 74,000 square foot gaming floor teeming with 2,000+ slot machines and 27 table games that include everything from progressive jackpot blackjack variants to Roulette, Craps, Pai Gow, 3 and 4 Card Poker, and more.