Walk into any fully equipped casino in the United States, and it won't take long to notice the ratio of slot machines to table games is vastly one-sided. The same is true at two of Maryland's largest casinos, Maryland Live! and Horseshoe Casino Baltimore. Generally, this set-up produces more revenue for operators and state tax coffers alike, but these two casinos are requesting permission to shift the tides ever so slightly.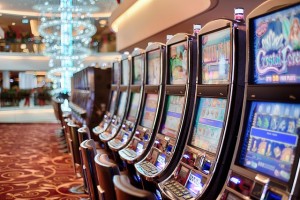 The owners of Maryland Live! Casino and Horseshoe Casino Baltimore have beseeched the Maryland Lottery and Gaming Control Agency (MLGCA) to allow them to reduce their number of available slot machines by 300, in exchange for additional table games. State legislators are wary of the plan, but the casinos, as well as one consulting firm, say it could be a positive move in the long run.
The goal of casinos is to keep as many gaming areas as full as possible, for as long as possible. Doing so ensures more money for the establishment, but not necessarily for the state. Maryland tax collectors entertain a whopping 60+% of the revenue generated by slot machines in the state's casinos, while only 20% of table game proceeds make their way to the treasury.
Looking at it from another angle, however, both casinos have indicated that their slot machines are not garnering the same attention as the table games. A substantial number of slots are sitting silent and vacant, while during peak hours, the table games are overflowing with customers.
At Maryland Live! Casino, where the owners want to reduce to slot machines by 300 to install 13 new table games, the amount of overall revenue being generated by a single table is substantially higher than that of a single slot machine. Will Cummings, a gaming industry consultant with Nathan Associates, estimated that Hanover's Maryland Live! brings in $260 per day on the average slot machine, while the average table game grosses about $4,400 per day.
The casino hands over 67% of its slots revenue, and 20% of table games revenue, to the state, which means that the average slot machine is generating $174.20 in taxes, while the average table game produces $880 in tax dollars.
According to the Maryland Live! website, the casino has 189 table games at present, including a 52-table poker room. The number of slot machines exceeds 4,200. If we do a little math, that's $731,640 in taxed slot machine winnings, and just $166,320 in table games taxes. If the MLGCA approves the elimination of 300 slot machines and subsequent addition of 13 more table games, Maryland Live! would produce an estimated $679,380 in slot machine taxes and $177,760 in taxed table game winnings per day; a difference of -$40,802.
Maryland taxes each of its five casino operators at a variable rate for table games, and a set 20% rate on slot machines. The difference in tax dollars would be less from Horseshoe Casino Baltimore, where the owners are asking to replace 300 slot machines with 30 additional tables games , which are taxed at a slightly lower rate of 61%.
Obviously, the state wishes to continue reaping higher taxes, but according to Cummings—despite an estimated loss of nearly half a billion tax dollars in the first year—in the long run, the results would be "more positive" for the state.
The MLGCA is schedule to meet this Thursday, January 29, 2015 at 9:00am to consider the casinos' requests for a reduction in slot machines. The staff has already recommended approval of the request.