The idea of winning a multi-million dollar progressive jackpot on a slot machine instantly conjures images of the brilliant lights of Sin City. It's a fantastic dream the majority of us will never realize, but for those who do, it becomes a life changing experience never to be forgotten. Such was the experience of one 78 year old woman who played Megabucks at Westgate Las Vegas two weekends ago.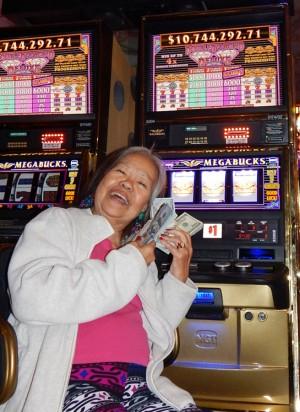 Trinidad Torres, a Filipina woman from Magna, Utah, had never been to The Strip before. A friend of hers convinced her to come along on a trip to the Westgate Las Vegas, where the friend intended to participate in a blackjack tournament at the casino. As it turned out, Lady Luck was sitting on Ms. Torres shoulder that afternoon.
On Saturday, March 14, Torres and her friend made their way to the casino floor of the Westgate Las Vegas. The Filipina-born woman inserted $100 into a very popular progressive from slot machine maker IGT, known as Megabucks. The three reel slot accepts $1 bets per line, and she activated all 3 for a total $3 wager. After just a few spins, her life would never be the same.
A spokeswoman for Westgate Las Vegas said the lights and bells went off around 1:00pm, revealing a massive win of $10,744,293.40. Ms. Torres had spun Megabucks' reels into perfect alignment, striking the ultimate jackpot.
"We're thrilled that she won on our property. What an exciting weekend for our lucky winner," said an enthused David Siegel, Chief Executive Officer of the resort hotel and casino. "Westgate Las Vegas is proving to be a fantastic place to stay and play. This huge win adds to the excitement of all of that we have going on at the property, including new shows, renovated rooms and dining experiences."
The last time the Megabucks progressive paid out the ultimate prize was during the last weekend of November 2014, when a local man from Las Vegas (who chose to remain anonymous) struck the jackpot for $14 million at the Rampart Casino. The lucky winner's story went national when he announced his intentions to give the majority of his winnings to charity; especially his congregation, which had no church to call home at the time.
In lieu of her incredible fortune, 78 year old Torres has already started making plans to spend some of her new found prosperity. She said it's been many years since she was able to travel back to her original home in the Philippines to see her family, so that's at the top of her list. She said she will finally be able to purchase what she called her 'dream car', a yellow Mustang.
The lucky Filipina woman also said she intends to return to the Westgate Las Vegas next month, not just because she had such fortune there on Megabucks, but because she is a huge fan of Elvis Presley. In April, the resort hotel and casino is preparing for the grand opening of a recently announced presentation called 'Graceland Presents ELVIS: The Exhibition – The Show – The Experience'.