For more than three decades, New Jersey casinos were the highlight of tourism in the Garden State. That level of prosperity began to take a downward slide about 5 years ago, when neighboring states started opening their own slot machine destinations. Thanks to the intense efforts of area developers, new alternate entertainment venues and convention centers are bringing tourists back to the shore.
As Tony Rodio, one of the longest running casino executives in Atlantic City and current President of Tropicana, explains it, "all we really needed was gaming" in the old days. "We were the convenience option for the entire Northeast. We had more demand than we had supply. We didn't need conventions."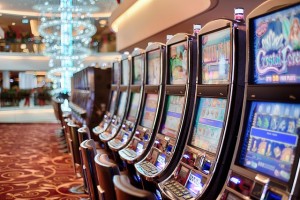 At the turn of the century, New Jersey casinos were the place to be. Tour busses from all over the northeast ran regularly, shipping in players in droves for a day's action at the slot machines and table games, then transporting them back later that evening.
But with casinos popping up all over nearby states like Pennsylvania and Maryland, the desire to take a 3-4 hour bus trip to visit New Jersey casinos diminished. Why endure the added expense and travel time to visit Atlantic City when gamblers can simply drive 10-30 minutes from their own home and play the exact same slots?
The Garden State is finally getting back on track, having discovered new ways to bring travelers back without relying so much on New Jersey casinos. And according to a recent study commissioned by the Atlantic City Alliance and conducted by Tourism Economics consulting firm, it appears their efforts have not been in vain.
Two years ago, non-gambling retail outlets at New Jersey casinos accounted for 22.3% of total cash sales. That figure has since jumped to 28.5%. Additionally, Atlantic City bars have seen a 39% increase in payroll.
According to Bart Blatstein, the Philadelphia developer responsible for revitalizing the former Pier Shops plaza into a $52 million music-themed entertainment strip, New Jersey casinos have become so mainstream that they are boring.
Blatstein was on the scene in late June when his new entertainment complex held its grand opening. The centerfold of the mini-district is called T-Street, where a line of musically themed bars and performance venues was designed to emulate Nashville's Music Row, including everything from classic country and retro 80's to rock and roll motifs.
A massive convention center was constructed at the end of the pier, where up to 2,000 people can converge for special occasions, such as concerts, weddings or business expositions. Just up the way, tourists can visit the garden bar, the Irish pub or, in the near future, a bowling alley and fantasy sports bar.
And of course, while travelers are enjoying all of these newfound entertainment venues, they can still pop into New Jersey casinos and have a go at the slot machines and table games, or book a room at one of the chic hotels.
Brandon Ferguson, one of the many in attendance for the pier's relaunch, explained his take on the situation. "I'm not really a gambler," said the Oaklyn, NJ resident. "I don't like to give my money away; I like it to work for me. I like to chill on the beach, enjoy some good food, do some sightseeing and people-watching."
Now that the state's tourism industry has combined the best of both worlds, the numbers show that tourism may once more become a booming business in New Jersey.