For more than 70 years, WMS Industries (formerly Williams Manufacturing Company / Williams Electronics) has been building all types of gaming devices from its manufacturing plant in Waukegan, Illinois. After being acquired by Scientific Games in 2013, the parent company has announced intentions to move the slot machine maker to a new plant in Las Vegas.
Scientific Games has made multiple strategic maneuvers over the last two years, all in an effort to expand its business model and establish roots in the nation's gambling capitol. The company spent $1.5 billion on the procurement of WMS Industries, then followed that up with the $5.1 billion acquisition of Las Vegas-based Bally Technologies last fall.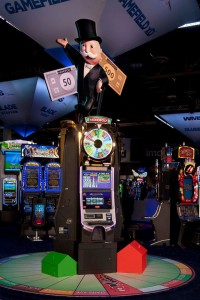 Now, the games manufacturer is shifting its presence to Nevada by relocating WMS from Illinois, as well as the Scientific Games head office in New York, to Las Vegas. The Chicago Tribune reported that the Waukegan slot machine maker currently employs 247 workers, most of which will be displaced by the move.
Scientific Games said that WMS Industries will start shutting down in Waukegan in the beginning of June, and that the plant will cease operations completely by June 15, 2015. However, the company plans to reassign 40% of its staff to its nearby research lab.
According to Scientific Games Director of Corporate Communications, Mollie Cole, 101 employees of the slot machine plant will be taking on new roles at Scientific Games Technology Campus some 35 miles to the south in Chicago. The company's center for research and development currently employs about 400 positions, including engineers, technicians and game designers.
Gavin Isaacs, President and CEO of Scientific Games, explained that, "Selecting Las Vegas as our global headquarters is a natural step in the corporate evolution of Scientific Games. Las Vegas is a diverse, cosmopolitan city in business-friendly Nevada where we have strong roots and an extensive and growing employee base," he said.
Furthermore, Isaacs stated, "This move will allow us to stay closely connected to our worldwide base of gaming, lottery and interactive customers."
A New Chapter in WMS Gaming's History
Today, WMS Industries is best known as a slot machine maker under the subsidiary WMS Gaming. But slots machines didn't become a part of the corporate business model until 1994. The company's roots actually date all the way back to 1943 when it was founded as Williams Manufacturing Company by Harry E. Williams.
The company started out making pinball machines, arcades, novelties and even fortune telling machines. Pinball machines and arcades remained at the top of the brand's list of revenue generating products for decades, but in 1994—two decades after rebranding the company as WMS Industries—the manufacturer dipped its toes into slot machine making.
Having spent so long perfecting video gaming technology, WMS played a key role in the evolution of slot machines. Instead of mechanical one-armed bandits, WMS was engineering video-based slot machines by 1996. Since then, video slots have overtaken the market nearly by 100%. Antique slots are still found on rare occasion, but more as a novelty game.
In 1999, WMS Industries shut down its pinball division to focus entirely on manufacturing gambling devices. The slot machine maker has been under the capable wing of lottery software developer Scientific Games since 2013.