Investing in slot machine makers is risky business these days. A perceptibly saturated global market has caused many of the major gambling device manufacturers around the world to falter on the stock market, but capitalizing on the right companies could still be worth big bucks. Knowing who and when to buy is, of course, the tricky part.
The Association of Gaming Equipment Manufacturers' calculates the combined month-on-month stock movements of 14 different companies (after subtracting Multimedia Games, acquired by Global Cash Access in December). According to the latest AGEM Index report, slot machine makers, table games designers and other gaming equipment developers as a whole have continued to see a downward slide across the industry. In the last 12 months, the index's composite value has declined 9 times, including the last four months straight.
The composite value of stocks is calculated based on a points system that was originally established at 100 back in 2005. The end of month stock market results for each gaming equipment manufacturer is then assessed to come up with an overall score.
The AGEM Index report for December 2014 revealed a composite value of 181.4, representing a 2% descent of 3.74 points compared to the previous month. When judged against last year's December performance, it represents a 6.2% decline of 12.11 points.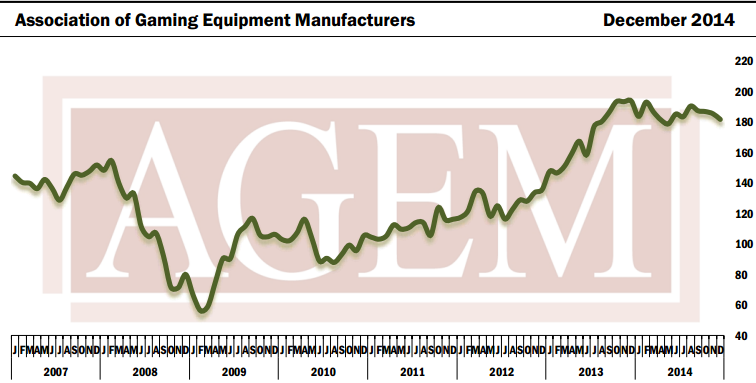 Based on the number of companies that saw an increase in month-on-month stock values, the results may appear positive, but scratch below the surface and it's a different story. Eight of the fourteen slot machine makers actually experienced a positive result, but only one of them gained 5% or better, while heavier losses among the other six companies, including 2 that declined by more than 5% (one as high as -15.9%), resulted in an overall negative score.
The best performance of all goes to Australian-based Ainsworth Game Technology (ASX: AGI), experiencing an impressive 5.4% boost to $2.36. Unfortunately, after calculating exchange rates, the slot machine maker only contributed 0.04 points to the AGEM Index. The highest contribution of 0.50 points came from US-based International Games Technology (NYSE: IGT), which reported a 1.3% rise to $17.25.
Other positive results came from a 4.86% increase for Daktronics (NASDAQ: DAKT), a 2.63% increase for Galaxy Gaming (OTCMKTS: GLXZ), a 4.36% increase for Gaming Partners Int'l (NASDAQ: GPIC), a 0.7% increase for Global Cash Access (NYSE: GCA), and a 0.33% increase for GTECH SpA (MILAN: GTK.MI).
On the negative end, Scientific Games Corp (NASDAQ: SGMS) performed the worst for the AGEM. December's end-of-month stock market price of $12.73 represents a 15.9% decline, resulting in -1.54 points on the index. Interestingly enough, Australia's Aristocrat Leisure (ASX: ALL) saw a small increase of 0.77% to $6.56, but again due to AU$ exchange rates, the end result was -1.1 points.
Other slot machine makers who experienced a deficit on the stock market last month include the 1.13% loss at Astro Corp (TAIWAN: 3064), a 0.56% loss for Crane Co. (NYSE: CR), a 7.36% loss for INTRALOT (ATHEX: INLOT), a 2.45% loss at Konami (NYSE: KNM), and a 0.36% loss for Transact Technologies (NASDAQ: TACT).