A bad run at a slot machine can get some people really upset. Drinking too much alcohol can make us do some crazy things. And we all can agree that, when you gotta go, you gotta go! But it's not certain which, if any, of these scenarios provoked an east coast gambler to urinate in the coin dispenser of a slot machine last weekend.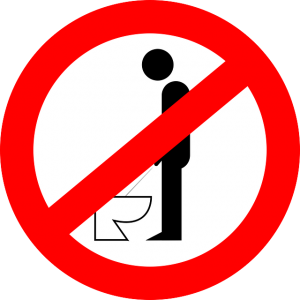 The incident occurred at the Parx Casino in Bensalem, Pennsylvania last Friday. William Robert Compton, a 53 year old man who traveled to the PA casino from New Jersey, was arrested by police after allegedly relieving himself in the coin tray of a slot machine.
Philadelphia news source NBC 10 reported that Pennsylvania state police arrived on the scene at approximately 4:35 pm on the afternoon of Friday, June 19. They had responded to a call indicating that one of the casino's patrons had urinated on a slot machine.
According to reports, Compton was not acquiesce to the arrival of authorities. In fact, police were willing to release the man from custody, in lieu of a summons to appear in court. But officers said that he was unwilling to leave the Parx Casino.
Subsequently, in an attempt to take Compton into custody, the suspect resisted arrest. After getting physical with the officers, they were able to take the irate gambler into custody.
Not surprisingly, the management team of Parx Casino issued a lifetime ban against the 53 year old man from Manalapan, New Jersey, who will no longer be permitted to enter any Parx Casino establishment.
Compton's impromptu use of a make-shift slot machine urinal earned him a stay at the Bucks County Correctional Facility. He was charged with public urination. The county judge set his bail at $50,000.
Other Slot Machine Mischief at Parx Casino
Crazy occurrences such as this don't happen often at Parx Casino, but they do happen. On the evening of March 4, 2013, one lady who was playing a slot machine ended up being arrested for physically assaulting a fellow slots player.
According to police, two patrons, Dana Sarne and Paula White, were playing slot machines adjacent to one another. Then-30 year old Sarne of Morrisville, PA asked her neighbor to extinguish her cigarette, explaining that it was irritating her asthma.
Being seated in a smoking section of the slot machine gaming floor, and thereby having every right to refuse to put out her cigarette, Ms. White declined. Rather than moving to a non-smoking section—a section where any reasonable asthma-suffering patron would have been in the first place—Ms. Sarne responded crossly to the fellow slot machine player's refusal. Reports indicate Ms. White then blew smoke into the other woman's face.
As you may have guessed, that didn't go over well at all. Police records state that Dana Sarne retaliated by hitting Ms. White in the face several times before smashing her over the head with a beer bottle. Ms. Sarne was arrested and charged with aggravated and simple assault, with bail set at $25,000.