New Year's Eve is a time for celebration and merriment all around the world. Two individuals, whose paths had never crossed before, each visited England's Brighton Pier on December 31, 2014; one on a family holiday, the other, also with family, who visits annually to partake in the area's slot machines. Before the clock struck midnight, a tale of glorious, humanitarian proportions had developed.
Mel Armstrong, a 34 year old paramedic from Greenwich, was off duty that night, celebrating New Year's Eve with her family. Much to her surprise, the evening didn't quite go as expected. In her own words, Armstrong relayed the events f that fateful night.
"I heard a loud bang and I turned around and there was a man slumped against a machine," said Ms. Armstrong. "As I looked down, I could tell instantly he was about to stop breathing. I did CPR and after a few minutes managed to get a pulse back."
The man whose life she was attempting to save turned out to be Brian Smith, a 72 year old pensioner from Cheam. The off duty paramedic said that she waited with the man until the ambulance arrived. But considering the situation, and his shallowness of breath, she felt uncertain as to whether he would survive.
As it turns out, not only did Mr. Smith pull through, his nephew Mark House happened to be in the employ of the London Ambulance Service. House was so grateful for Ms. Armstrong's expert performance that he made the effort to track her down and thank her personally, explaining at the same time that his uncle was alive and well back home in Cheam.
Mel Armstrong Honored with VIP Award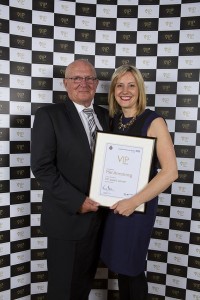 Fast forward four months ahead to the evening of April 29th, 2015, where Brian Smith and his self-proclaimed "guardian angel" met up at the London Ambulance Service VIP Awards. Mel Armstrong was honored for her skilled feat on that fateful night, thanks to the thoughtful nomination of one Claire Hutchings, a fellow paramedic.
"Mel's skills and knowledge saved Brian's life," said Hutchings at the ceremony, "which is why she deserved to win this award."
Mr. Smith told his version of the story as well, saying, "We normally go down to Brighton Pier on New Year's Eve as a family." Unlike all the years before however, Brian said, "We got to the slot machines and someone turned the lights out on me and I went down like a sack of potatoes."
Mr. Smith then set all humor aside, saying, "If it hadn't been for Mel, I wouldn't be sitting here.  She's my guardian angel."
The two have since become very good friends. They are so close, in fact, that they've already made plans to meet up again this upcoming New Year's Eve. Each will be traveling to Brighton Pier once more, celebrating Brian's amazing recovery and, more than likely, playing the slot machines once again.
"I believe it was meant to be there that day," said the 34 year old paramedic / guardian angel. "And since meeting Brian, we just clicked and have formed a strong bond."