Although Las Vegas and Atlantic City are often considered the highest grossing gambling destinations in the US, you might be surprised to learn that Pennsylvania is ranked 2nd among states harvesting the most revenue from gambling (Nevada being 1st, of course). According to representatives from one popular slots casino in the Keystone State, Mount Airy, the current gambling regulations need to be tweaked in order to remain competitive.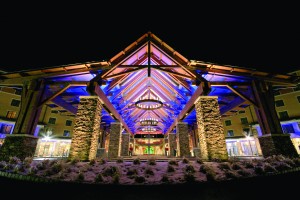 On Tuesday, the PA House Gaming Oversight Committee held a meeting in which officials from Mount Airy complained of several key issues they believe should be addressed by regulators. Among them, owners of the slots casino believe non-key members of the staff should be permitted to play slot machines at their place of employment, and that the state's gaming lab should expedite the review process for new games.
Richard Whitby, the Slots Director at Mount Airy, told the committee that Pennsylvania's state-run gaming lab often takes more than a year to review and approve (or censure) new slot machines. The committee was shocked by the news, and may finally follow in the footsteps of most states where gambling is regulated by recruiting a third-party company, like Gaming Labs International, to expedite the process.
"The hottest games in the country are being rejected here," Whitby explained. "This ties our hands in giving people the games they want." He said the most requested game—and most popular slot machine in the country at the moment—is Buffalo Stampede. Unfortunately, Pennsylvania's labs have yet to assess and approve that particular machine, despite the fact that patrons are specifically requesting it.
Whitby went on to explain how Mount Airy owns about 90% of its slots, and leases the remaining 10% to give them the option of testing new games on the clientele. The popular ones stay, and the others are replaced with new ones. But because the approval process takes so long, all of PA's slots casinos are finding it difficult to stay competitive with nearby states.
Rep. John Payne, Chairman of the Gaming Oversight Committee, agreed with Mount Airy's officials. In response to the length of time taken to approve new casino slots, Payne said, "We'd like to know why this is. Our job is to make sure we are competitive."
Officials brought up a few other issues at the meeting as well, like giving operators the option to increase the house edge at blackjack tables by changing the rules to 'Dealer Hits Soft 17'. That alone would adjust the house edge from 0.43% to 0.64%, and while that seems negligible, it could bring in an estimate $1.7 million in additional revenue annually.
Mount Airy is also required to keep its list of problem gamblers in a physical binder rather than a computer database. Officials asked the state to make that information available on a computer system for faster, digitized record keeping.
The slots casino also wants to raise or eliminate the check-cashing cap of $2,500, and allow non-key employees to play the slots, so long as they're off the clock. Legislators didn't seem too keen on those ideas due to the potential for increased problem gambling in the state.
Last but not least, Mount Airy wants to be able to offer their customers sports betting, as is found in Las Vegas. Officials argued that Pennsylvanians are already betting on major events like the NFL Super Bowl illegally, and that legalizing and taxing it would be better for all. However, Gov. Chris Christie of New Jersey already tried that, and the federal government responded with a resounding "No".