There's a developing trend at Maryland casinos these days. Where once the gambling industry was known for packing as many slot machines as possible onto capacious gaming floors, while throwing a few table games into the recesses, it seems that Maryland casinos are reversing that position.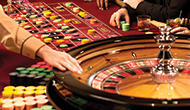 The Washington Post recently reported that, in the last 15 months, Maryland casinos have had approximately 1,350 slot machines removed from their establishments. In their place, more table games and other amenities are being installed at the state's three largest gambling establishments – Horseshoe Casino Baltimore, Hollywood Casino Perryville and Maryland Live!
All in all, 16% of the slot machines at Maryland casinos have been extricated from the facilities. Operators say they are focusing more on the younger generation of clientele, which prefers slower-paced, strategically driven table games, as well as a more diverse arrangement of entertainment, restaurants and other amenities.
Slot machines simply don't carry the same appeal they once did. Traditionally, the majority of visitors to casinos all over the country were drawn to the slots. Now days, slot machines are predominantly played by the seniors crowd, and there just aren't enough of them to fill the seats these days.
Maryland Casinos Following Footsteps of Nevada
The same trend can be seen when examining the gambling mecca of the United States – Las Vegas, Nevada. In 2001, reports indicated a total of 217,000 slot machines installed throughout Nevada casinos. This year, that number has dropped a staggering 19.35% to 175,000. Similarly, between 2007 and 2014, the Washington Post reports that Nevada has seen a loss of 20% in revenue from gambling on slot machines.
State Hit by Maryland Casinos Slots Reduction
The tax coffers are expected to come up short this year due to the reduction of slot machines at Maryland casinos. That's because the tax rate on slots is incredibly high in Maryland, ranging anywhere from 57% to 61%. In contrast, table games are only taxed 20% of their gross gaming revenue.
It's also noteworthy that table games take up a lot more space than slot machines. The size of the table must be taken into account, with ample room supplied for patrons to gather round the tables and walk between them. Slot machines, on the other hand, can be lined up side by side, back to back, with just enough room for a seat and thin walkways. Suffice to say, a casino could easily load 15-20 slots in the same amount of space one table game occupies.
Maryland casinos harvest $883 million in GGR in 2014. That number is expected to drop substantially this year, and many legislators are concerned that the casinos are deliberately making the transition from slots to table games simply to avoid the higher tax rate.
State Delegate and Chairman of the Joint Committee on Gaming Oversight, Eric G. Luedtke, says he's not too concerned by it. Luedtke called the transition nothing more than "an expected part of the business. Casinos are right-sizing and responding to consumer demand, and I think they're all getting ready for the opening of MGM next year."
That's another issue that is helping to ease the concerns of state legislators. MGM National Harbor, a $1.2 billion 'destination casino' project, is expected to open in Prince George's County sometime next year, and should have no problem subsidizing any tax deficit incurred this year by existing Maryland casinos.