The Soboba Casino in San Jacinto, California is hosting an 'Out of This World Party' to commemorate its 20th Anniversary.  Prior to the party, on June 14, 2015, the casino will make history by launching the very first slot machine into outer space. Then, on June 27, Soboba Casino will be inviting all to partake in the establishment's honorary celebration.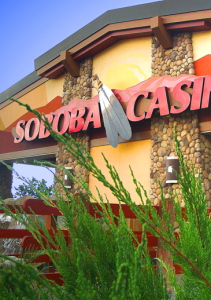 The slot machine, nicknamed 'Icarus', will be launched into space with the help of JP Aerospace. Riding shotgun will be a stack of 120 commemorative 20th Anniversary Soboba Casino Club Cards, along with a time capsule that was put together by members of the casino's staff.
All friends, family and esteemed guests are welcome to join in to Out of This World Party on Saturday, June 27, where they can be the first to lay their eyes on the world release of the "Soboba's Mission to Space" online trailer. Inman Productions, based out of Riverside, CA, will also be on hand to document the event for the film.
During that Saturday's festivities, 10 lucky attendees, and a handful of Soboba Casino's elite VIP members, will each receive one of the 120 commemorative Club Cards that made the voyage into outer space. Produced by Ablecard, each Soboba Casino Club Card will be marked with a holographic seal, and will include an official certificate of authenticity to verify that it did, indeed, make the epic journey 20 miles above the Earth.
Upon arrival at the party, guests can also request a non-flight copy of the casino's commemorative club card, while supplies last.
"Our guests have come to expect stellar service, out of this world experiences, and supernova-sized jackpots," said Michael J. Broderick, Director of Marketing for Soboba Casino. "What a better way to celebrate our birthday and 20 years of existence by sharing the magic and wonder of space travel with our customers. We will go to the ends of the Earth, literally, to provide a fun and unique gaming experience like no other."
Soboba Casino is owned and operated by the Soboba Band of Luiseno Indians, and is home to approximately 2,000 slot machines and 20 table games. Over the last two decades, it's become an incredibly popular destination for gamblers due to its prime location, situated on tribal lands just outside of San Jacinto, CA, about 160 miles from Los Angeles.
JP Aerospace, which has agreed to assist in the launch of the 'Icarus' slot machine, has been around a bit longer. Founded 31 years ago by John Powell, JP Aerospace is a non-profit organization that researches more affordable ways to achieve space travel. The company proudly refers to itself as "America's OTHER Space Program" (a reference to the more famous, government-funded program, NASA).
"At JP Aerospace, shaking up old notions is core to what we're all about. In fact, it is our mantra," said founder John Powell. "Every day we are making space more and more accessible and now we are bringing the universe closer to Soboba Casino patrons. We couldn't be more excited about this partnership and truly unique experience."