Ever since the latest G2E Global Gaming Expo, talk of integrating skill-based slot machines throughout Las Vegas casinos has been constant. Within two months of their exhibition at G2E, the Association of Gaming Equipment Manufacturers introduced a bill, SB 9, seeking approval to install the new generation of slot machines at Las Vegas casinos.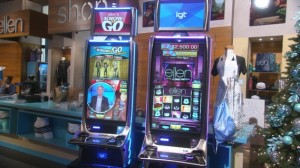 The bill quickly made the rounds in Nevada, receiving unanimous 'Yays' from the Senate and Assemblyman before arrive on the desk of Governor Brian Sandoval. It didn't take long for him to put his John Hancock on the legislation, authorizing the state's casinos to integrate the new skill-based slot machines.
"This bill allows gaming manufacturers to use cutting-edge technology to meet the challenges prompted by a younger, more technologically engaged visitor demographic," said Sandoval in a statement after signing SB 9.
"Passing this legislation into law is an important step forward in providing new opportunities for this critical industry to progress while ensuring that Nevada remains the global epicenter for gaming innovation and development," the governor concluded.
Geoff Freeman, CEO of the American Gaming Association, commended Gov. Sandoval for his quick, affirmative action, and hopes that the other 39 states that facilitate casino gambling will follow his lead. "We applaud Nevada's leadership on this bill that will allow for innovation among gaming equipment manufacturers and suppliers and help gaming reach a key customer demographic," Freeman said.
Why are Skill-Based Slot Machines so Important to Nevada?
Studies have shown that older gamblers are still attracted to traditional slots, but that today's younger crowd spends the majority of their time in Las Vegas at clubs and other entertainment venues, not the casinos. It didn't take much research to figure out why.
Today's 20-something crowd, aptly referred to as the video gaming generation, was raised on games of skill. From the classic game of Pong, to more interactive titles like Call of Duty: Modern Warfare, younger gamblers want to play games that involve dexterity and progressive aptitude. Skill-based slot machines will provide just that.
A traditional slot machine requires nothing more than a wager and the press of a button. The outcome of each spin, or any bonus feature that may be triggered, is based purely on luck. With skill-based slot machines, the value of a triggered bonus feature is dependent on how well the player is able to navigate the game.
For example, the first time you played Angry Birds—admit it, you've played Angry Birds, or some spin-off variation thereof, at least once—you probably didn't do so well. After a few tries though, we all learn to perfect our aim and progress farther through the game. Some of us are even apt enough to achieve 3 Stars in most, if not all levels.
Now imagine playing skill-based slot machines, where Angry Birds is the theme. The base game might offer a traditional slot experience, but once a bonus feature is triggered, all that time you spent flinging those cute, colorful birds on your mobile device will pay off. The more success you have blowing up the little piggies, the more credits you will earn playing the game.
Consider for a moment how many popular video game themes can be (and have already been, thanks to the forward-thinking of slot machine manufacturers) integrated into skill-based slot machines. Virtually anyone raised on PC and console video games will surely be more attracted to these next-gen slots than they would to classic reels or slower-paced table games.