Monopoly Slot Machines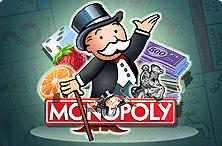 Monopoly
slot machines are based on one of the most popular games in the world. The
board game's current publisher, Hasbro, estimates that some 250 million
copies of the real estate buying and trading game have been sold worldwide
since it was first invented and published in 1935.
Casino game designer WMS Gaming has a license to produce slots based on the
familiar images, game pieces, and style of play that's been part of Monopoly
boards for nearly a century. Land-based and online slots based on the game
use its familiarity to drum up interest; Monopoly's main character (Mr.
Monopoly and his top hat, cane, and bushy white mustache) is just as
familiar to audiences around the world as the game itself.
Try
the 3D Slot Machine Games at Bovada and Get a $3000 Welcome Bonus
Licensed games are big business for casinos. Games based on pop culture
icons and familiar themes from movies and television are common as part of
software packages designed for betting websites and as physical machines on
a casino's gambling floor. Some gamblers are drawn to games that contain an
element of the familiar; most people recognize the logo of this popular
Hasbro board game and the happy face of Mr. Monopoly.
Passing a few hours sitting with your friends and family around a board game
is a happy memory; who doesn't remember spending thousands of
brightly-colored paper bills in an attempt to bankrupt your older brother?
Because the game crosses all sorts of cultural boundaries, releasing a slot
title related to Monopoly is an easy way for a designer to create a game
with a lot of built-in appeal.
Many different versions of the board game exist. From games that replace the
familiar paper money with a plastic debit card and electronic bank to titles
based on popular streets in various world cities, variety is a big part of
the Monopoly story. It should come as no surprise then that producers of
one-armed bandits with a Monopoly theme have also released the game in a
number of different varieties. It is easy enough to recognize a slot based
on the board game – the color scheme of the board game and the images and
fonts used on the game's box are just about the only features that these
slot variations have in common.
Pass Go Bonus
Produced by Wagerworks, Pass Go Bonus is the Monopoly title found most often
at Internet casinos. Available for instant play or as part of a software
download, Pass Go Bonus is the licensed one-armed bandit game closest to the
way the traditional board game version works.
This five reel / nine pay line title has two bonus games built in. The bonus
mentioned in the machine's name comes when a player rolls three dice symbols
on an active line. The player earns a specific number of dice rolls based on
the number of dice found behind images from the game like Free Parking,
Chance, Go to Jail, and various deeds to properties from the game. Once the
number of dice rolls is established, the player moves around the Monopoly
board winning instant credit prizes.
The game's other bonus is called the Community Chest Instant Bonus. Earning
this prize comes from the appearance of three Community Chest symbols on an
active line. Different images lead to different wage multiplier rewards.
Online gamblers aren't the only players who can get in on the fun;
land-based Monopoly slots have been around since before the Internet
versions. Here are details on two of WMS Gaming's board game-inspired
machines.
Advance to Boardwalk
WMS has based their popular Advance to Boardwalk title loosely on the way
the board game works. The title refers to the free spins round found in this
title, where players have a shot at winning 10, 15, or 25 free spins
depending on the number of scattered "Ticket to Ride" symbols that show up
on lines, active or inactive.
Advance to Boardwalk is a bonus game lover's dream – five unique bonus
rounds appear throughout the game based on the various symbol combinations
that players manage to put together. The inclusion of the scattered Ticket
to Ride game that pays as many as twenty-five free rounds of play along with
five bonus rounds that pay out instant credit prizes, free spins, and
multipliers makes Advance to Boardwalk one of the most popular Monopoly
games in land-based casino sites that host them.
Here and Now
WMS licensed Monopoly games sometimes combine traditional machine gambling
with the rules of an actual round of the board game. Basing the game's bonus
rounds on the way the board game works makes this title a good fit for fans
of the board game that want to try their luck on the reels.
Wager variety is another reason for the game's popularity. Wagers start as
small as a penny and bettors can bet on multiple lines (with multiple
credits per line) if they want to place a mid-range or high-roller bet. The
inclusion of two bonus games (both of which look and feel similar to board
game play) also makes this a popular choice in land-based casinos.
This five reel / twenty pay line game accepts bets of up to five coins per
line, for a bet variety between one and one hundred credits per spin. The
symbols are all familiar to fans of the game – the car game piece, a pair of
dice, Community Chest cards, and other recognizable symbols from the Hasbro
game. One nice feature of this slot machine based on Monopoly is that
players actually play a game of Monopoly as they spin the reels, building
houses and hotels on properties they buy during play.
Players lucky enough to land their tokens on either Chance or Community
Chest during these bonus rounds can lead to a random instant credit prize or
a number of free movements around the board toward other bonus games and
opportunities to "buy" properties.
The popularity of the Monopoly-themed games described above, and the
continued popularity of the board game they're based on, means players will
see more machines based on this theme in land based and online casinos over
the years. With hundreds of millions of games sold over the past seven or
eight decades, this is one board game that is recognizable across a number
of cultural lines. Companies like WMS and IGT are producing Monopoly slots
that combine the best parts of board game action with bonus rounds and cash
prizes common to slot machines.
Try
the 3D Slot Machine Games at Bovada and Get a $3000 Welcome Bonus