Reel Em In Slot Machines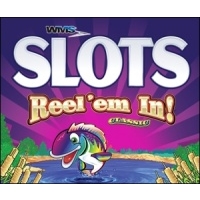 Reel Em in slot machines are a popular line of games from WMS Gaming.
Players can enjoy several versions of the game, including the Reel Em In
Classic, Big Bass Bucks, Compete to Win, and Greatest Catch. Each of these
games offers a much different gambling experience, so I want to discuss each
in turn. Since the newest editions of the game are those its manufacturer,
WMS, markets the most these days, I'll spend the bulk of the time on those
machines.

Try
the 3D Slot Machine Games at Bovada and Get a $3000 Welcome Bonus
Big Bass Bucks
One of the best titles in the series is "Big Bass Bucks". The reel symbols
on this game include several a fishing rod, a tackle box, a lure, a
fisherman's hat, a happy-looking worm on a hook, and a couple of different
funny-looking animated fish.
Wild Symbol and Jackpots
The wild symbol is a happy looking fish with the word "Wild" on the reel
symbol. This icon substitutes for all other symbols except the "Fishing
Contest" icon, the "Big Bass" icon, the trebled hook lure, and the yellow
fish with the mustache. Three of those four symbols only appear on the 5th
reel, so they won't appear that often during the game. When you get five
wilds, you win the top jackpot of £50,000. Four wilds get you £2,500, while
three win you £500 and two win you £50. If you receive 5 of the
proud-looking fish with the mustache, you'll receive the second-highest
jackpot £5,000. Receive five of the yellow fish and you'll receive £2,500.
The bait box and the fishing pole each offer payouts of £1,000 or more, so
they are worth mentioning.
Compete to Win
When Reel Em In: Compete to Win first hit casino floors, it offered a whole
different player-driven gaming experience. Compete to Win recognizes a
player with a log-in, so the player can take their accomplishments with them
wherever they play. This allows you to join the leaderboard with public
recognition.
Greatest Catch
Reel Em In Slots: Greatest Catch is the latest edition of the popular brand.
The game is a local-area progressive which provides higher bets and a new
gaming experience. The bonus game is vivid and action-packed, leaving
players on the edge of their seats as they wait for results. Besides the top
quality animations, which depict a whole range of bonus fish fighting over
your fishing line, the game offers seven progressive prizes. These aren't
just seven prize levels, though. A player can win more than one progressive
on the same spin. One drawback is you have to spend more to increase your
odds during the progressive picks phase, but that's really nothing new in
the fruit machine world.
Other features on the game include the CPU-NXT2 Pentium IV processor with
two gigabytes of RAM, which powers the 3-D graphics an 24-bit true-color
animations. You'll see the difference in the full-motion movie clips and
film quality sounds effects. The BlueBird2 software will be of interest to
casino operators knowing whether they should license the game, while
gamblers should know they can play Greatest Catch in English, Spanish, or
Mandarin Chinese.
Local Area Progressive
A local area progressive is an increment-based game tied to a bank of
computers (slot machines) in a particular bank of games inside a particular
area of a casino. Any gambler playing at this bank has a chance of
triggering the various progressive awards available in what WMS calls that
"progressive family" of games. WMS uses the local area progressive for a
number of their games, such as Leprechaun's Gold Land o'Luck, Life of Luxury
Deluxe, Castle King, King of the Titans, Exotic Gems, Ultra Hit Progressive,
Royal Series, and Peng-Wins. Licensed games like Top Gun and The Price Is
Right: The Ultimate Show are also examples of local-area progressives.
More Games from WMS
If you're interested in other games to play from the WMS library, start with
licensed slots like Gone With The Wind, Super Monopoly Money, Monopoly Bonus
City, CHEERS, KISS, Willy Wonka & The Chocolate Factory, The Lord of the
Rings, The Great and Powerful Oz Multi-Pay, The Wizard of Oz: Wicked Witch
of the West, Journey to Oz, I-Play The Princess Bride, Alice, YAHTZEE, Press
Your Luck 3-Reel Mechanicals, Monsters Jackpots, and Star Trek: Battle
Stations. If you prefer non-licensed themes, try out Cascading Reels 5×4
Invaders!, The G+ Deluxe Series, Power Spins, Baron von Bacon's Million
Credit Bonus, or the Game Chest Multi-Game Set 1. I'm pleased and amazed the
1980's classic game show Press Your Luck got its own licensed slot.
Phantom EFX WMS Slots
This series of games has been such a fan favorite that the company partnered
with Phantom EFX to put out a computer game version of the game on PC DVD. "WSM
Slots Reel 'em In!" not only provides the classic version of the game, but
also 20 other favorite titles in the company's fruit machine library. Other
titles appearing in the multi-game are Brazilian Beauty, 3 Alarm Fire,
9Suns, Double Wild Loose, Egypt Bonus, Enchanted Kingdom, Jewels of the
Night, Jungle Wild, Raking It In, RingQuest, Rising Fortunes, Rockstar
Sevens, Silk Kimono, Swords of Honor, Treasure Diver, a special mystery
slot, and Wild Waves. The product sells for less than $20 online. This is
one of a line of such products, including one in conjunction with Masque
Publishing for a games like Boom, Cuckoo Cash, Double Wide Price, Collision
Course, and Devil's Dinero for Windows/Mac. I'm assuming gamblers are
wanting to play the real game in a live casino, but some players might want
complete knowledge of the game list.
Game Review
Anyone reading this far understands how much of a fan favorite these games
are. Each one is a different experience from the wild symbols of Big Bass
Bucks to the leaderboard on Compete To Win to the local area progressive on
Greatest Catch. When a fruit machine has a PC game devoted to it, you know
it's been a big success. This game is one of those cases where the success
is earned.

Try
the 3D Slot Machine Games at Bovada and Get a $3000 Welcome Bonus