Tarzan Slot Machines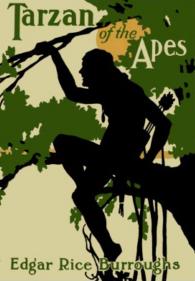 Tarzan
is a character created by Edgar Rice Burroughs in the early 20th century.
Thanks to Disney's movies and TV shows based on the Tarzan stories, the
character is still popular with audiences today. Aristocrat has released a
popular progressive video slot called Tarzan King of the Jungle with an HD
display, movie-style animation and fully-customizable player sound options.
Using themes from pop culture is an easy way to draw attention to your game,
and this title's familiar theme and low maximum bet value is really popular
in land-based slots that host it. The fact that the game offers every player
the chance to win $250,000 or more is probably also a big contributor.
Try
the 3D Slot Machine Games at Bovada and Get a $3000 Welcome Bonus
Game Details
This thirty-reel, five pay line slot from Aristocrat has five different
bonus rounds featuring a different interactive game, all built around a
jungle theme. Tarzan also has a four-level progressive jackpot rewards
system that can lead to big one-time payouts. Though machines are available
for as little as a penny-per credit, the game's 50-credit – 150-credit bet
range can make it a fairly expensive game – playing even $0.25 per credit
means spending $12.25 per spin of the reels.
Players who like side games will be happy to drop $0.50 per spin on Tarzan
King of the Jungle. Bonus round have a pretty high hit-frequency, based on
the audit information Aristocrat posts about the machine. That and the
option of playing five different games makes Tarzan a bonus lover's machine.
There's The Stampede Bonus, where the player controls elephants racing
across the screen trying to capture bonus scatter symbols, to The Kerchak
Game, in which the player's skill determines how big of a multiplier he wins
(2x, 3x, 5x, and 10x), Aristocrat makes bonus scenes a big feature of The
King of the Jungle. There's a Monkey Bonus, where you play a monkey jumping
around grabbing symbols on the reels and turning them into wild symbols. And
what good would a Tarzan game be without a game that lets you be Tarzan
himself, swooping through the screen and turning all randoms into a Special
Wild with higher payouts?
If a gambler is lucky enough to spin three or more scatter symbols, he
triggers The Progressive Wheel game, where the titles' biggest progressive
jackpots, bonuses, and awards of credits and free games occur. Players can
spin up to 7 different wheels, and the largest prize that's spun is the one
he wins. The Progressive Wheel game is like a completely different game
attached to these
Features
Tarzan King of the Jungle was one the first Aristocrat releases using its
VERVE HD cabinet and graphics. An extra-wide dual touch screen (31.5 inches
in the case of the Aristrocrat Tarzan slot game), digital audio effects, and
a new ergonomic design have been added to Aristrocrat's cabinet-style,
making King of the Jungle one of Aristocrat technology's latest and greatest
games.
A unique "Wild Play" options allows the slot player the chance to place an
additional wager in hops of winning extra free spins and bonuses. This is a
new feature Aristocrat is trying out, and is triggered by a certain number
of Wild Play symbols on active lines and is really just a side bet. Gamblers
who are nuts for free spins and extra game play can choose to participate in
Wild Play or ignore the extra wager chance and keep playing the standard
game.
The four-tier progressive systems reset to incrementally larger amounts; the
Mini jackpot starts at $10, the Minor resets to $30, the Major progressive
starts at $500, and the biggest one of all, the Grand, resets to a minimum
of $250,000.
Aristocrat's new Tarzan Lord of the Jungle game was the company's
most-played title in 2011, with well over 1,500 units in the United States
as of this writing. Loud sound effects, the familiar Tarzan theme, and the
game's multiple chances to play bonus rounds and win tiered jackpots mean
this title gets a lot of action on any slot bank it appears in.
See
SuperheroSlotMachines.com for similarly-themed games.