Zorro Slot Machines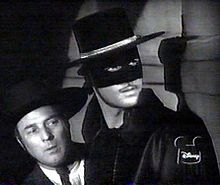 Based
on the character created by Johnston McCulley in 1919, Aristocrat's Zorro
slot machine is another video bonus game featuring a set of licensed
characters, images, and other features. The world of Zorro is huge: comic
books, TV series, and films based on the character have been around for
nearly a century. The game incorporates themes from the various series but
creates its own style of Zorro that's more like a pirate than anything else.
Try
the 3D Slot Machine Games at Bovada and Get a $3000 Welcome Bonus
Zorro is the secret identity of a Spanish nobleman living in California
Spanish rule. The character has appeared in thousands of comic books,
strips, television shows, and feature films, but a few things have always
stayed the same: Zorro wears a black mask, uses a sword and a bullwhip, and
spends most of his time defending the poor people of the countryside against
tyrannical government forces and villains. The slot machine game stays true
to the character's roots, featuring the whip-and-sword wielding adventure
hero doing what he does best: slashing, whipping, and riding his way around
the frontier.
Game Details
Zorro is known for offering a large range of bet sizes. The game is
available in credit sizes as low as $0.01 up to $2, and since the max wager
is fifty credits, not counting the side wager, you can bet in increments
from a single penny up to $100. The side ante is a five credit bet you can
choose to make or not on each spin – not placing the side wager keeps you
out of the bonus game, so if you're into chasing bonuses you need to bet
those extra five credits. With the side bet included, the top bet is $175
per spin, while penny slot players can play for as little as $0.06 per game.
The game starts with the classic slash of Zorro's sword in the trademark Z
that is his symbol. Zorro himself comes galloping out, and you can enjoy a
little pre-game video or skip straight to the action. The game's five reels
contain a variety of symbols: including Juliana, Zorro's famous love
interest, piles of golden coins, pirate ship-style barrels and a few
standard numeric slot icons.
Bonus Game
If you place the ante bet (the five-credit-per-spin side bet that you can
choose to place or not), you have access to the Zorro bonus. You have to
actually press a button on the interface, on the bottom right of the case,
in order to activate the ante.
If you're eligible for a bonus, the game's standard 9 through to A icons
turn into the letters that spell out our hero's name – Z, O, R, R, and O.
Align this name on the game's reels and you'll be playing the bonus round.
There are actually five different side games that are randomly triggered
when you line up Zorro's name. The bonus variety includes a standard match
and win game where the player picks from a field of options to see how much
bonus cash or how many free games they win, a choose a barrel game that
hands out up to 20 free spins, a free spin game called Wild Z (the number of
spins and wilds you get depends on the symbols that appear during the game),
and Magic Door round where slot players have to pick from one of a set
number of doors for multipliers, and finally a short bonus game called
Tornado that rewards players with instant bonus prizes.
That variety of bonus rounds is not typical of Aristocrat's video slot games
– five unique bonus rounds each offering their own sets of rewards is a nice
addition to this slot title. Though it may seem a little strange for the
company to license a slot game on a character that's a bit out of date,
Aristocrat's Phantom and Red Baron titles show that this slot designer is
not afraid of embracing older themes and characters to produce new video
bonus slot games.
Though the character Zorro has been with us for nearly 100 years,
Aristocrat's popular slot (and the modern interest in the character) is
proof that the world's most popular swashbuckler still carries some clout.
Though Aristocrat has released better-looking and more detailed licensed
video bonus slots since Zorro first appeared in the 1990s, the game shows
their attention to detailed graphics, fun slot gambling features, and
high-quality sound effects and player options.