Texas is a vast landscape teeming with opportunities, and while many have implored the state to make casino gambling one of them, that has yet to happen. There are numerous Texas gambling bills on the table right now, but the odds of any receiving the 2/3 legislative approval necessary to bring a vote to the people is about as likely as the Minnesota Timberwolves winning the 2015 NBA Finals. Suffice to say, it is not going to happen.
As of 2012, the American Gaming Association (AGA) reported that, of the 23 states with legal gambling, the economic impact has been overwhelming, generating $240 billion per year. Of that, $38 billion has been collected in taxes. The industry also employs approximately 1.7 million Americans.
Without a doubt, a legal Texas gambling framework would deliver billions of dollars' worth of revenue into the state's coffers. That argument alone has been a catalyst for many states to seriously consider—and often pass—relative gambling bills. However, unlike most US states, Texas is not suffering for income. Thus the reasoning of increased revenue holds very little weight in terms of swaying legislators.
Casino Gambling in Texas
At present, the only legal form of gambling that comes close to representing casino style gaming is offered by the Kickapoo Traditional Tribe, which operates the Lucky Eagle Casino Hotel in Eagle Pass, TX. However, since slot machines are still illegal in the Lone Star State, as are all banked table games, the tribe is only able to provide "class II" gaming (bingo, pull tabs).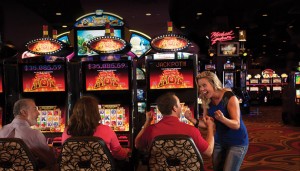 Take one look at the 100,000 square foot casino floor (pictured right), and you'll probably say, "Wait a minute. Those are slot machines. I thought Texas gambling laws prohibit slots?" While these devices do, in fact, look exactly like slots machines, and appear to operate in the same fashion, they are actually Electronic Pull-Tabs, referred to by the Kickapoo as 'Lucky Tab II' machines.
2015 Texas Gambling Bills
One of the Texas gambling bills floating through legislature at the moment is HJR 22, introduced by Rep. Poncho Nevarez [D-Eagle Pass]. The measure would create a constitutional amendment authorizing the Kickapoo Traditional Tribe to negotiate an agreement with the states to conduct class III, casino-style gambling. The agreement would include a designated framework for licensing, taxation and fees to benefit the state, while giving the tribe permission to install real slot machines. That gambling bill was left pending in committee on Monday.
Rep. Richard Raymond [D-Laredo] introduced Texas gambling bill HB 1385 to create local elections, allowing county citizens to decide whether gaming devices known as eight-liners should be permitted in their area. That bill has also been left pending in committee.
Rep. Carol Alvarado [D-Houston] wants to legalize gambling throughout the states by first creating a Texas Gaming Commission that would oversee commercial and tribal casinos in Texas. Rep. Alvarado's gambling bill, HJR 40, was referred to State Affairs in early March.
Rep. Senfronia Thompson [D-Houston] is seeking a constitutional amendment via HJR 129 that would give the Ysleta del Sur Pueblo and the Alabama-Coushatta tribes the right to provide class II and class III gambling on restricted tribal territories in Texas, requiring 5% of gross gaming revenue to be paid to the state. Once again, the Texas gambling bill was left pending in committee.